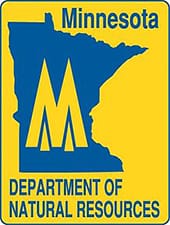 St. Paul, MN -(Ammoland.com)- There will be nearly 500,000 blaze-orange clad hunters afield when Minnesota's firearms deer season gets underway Saturday, Nov. 8.
Whether they bag a buck or not, it's great just to be outdoors. While exercising hunting rights in the woods and fields appeals to many people, with it comes some responsibility, according to the Minnesota Department of Natural Resources.
That includes ethical hunting practices, respecting the resource and passing on core values to preserve Minnesota's hunting heritage for the next generation.
"The time shared between a youngster and a mentor is invaluable," said Col. Ken Soring, DNR Enforcement Division director. "There simply is no better way to introduce a young person to safe, ethical and responsible aspects of hunting than with the close supervision of an adult mentor."
A past president and current treasurer of the local Des Moines Valley chapter of the Minnesota Deer Hunters Association, Cody Duroe, Jeffers, Minnesota, is a 47-year-old who has been hunting since he was a teen. His father was not a hunter so he learned through friends. He knows the importance of mentoring.
"My 12-year-old daughter and 11-year-old son take turns sitting with me with a 20-gauge shotgun in one of our deer blinds," Duroe said. "It's a great opportunity to teach hunter core values to preserve Minnesota's hunting heritage for the next generation."
Duroe's children receive several lessons while taking in the sights, sounds and smells of fall.
"Ethics and sportsmanship go beyond obeying the game laws," Duroe said. "It's about fair chase and not throwing lead in the air to knock something down. And it's about how you treat people in the field whether it's landowners or other hunters. Be courteous and respectful."
Respecting the resource and landowners goes hand-in-hand.
"Never go on private property without permission and remember that cooperation and respect are the keys to getting permission to hunt," said Soring, "and if given permission, respect the landowner's property as if it were your own."
Hunters should also know where the boundaries, houses, roads, fences and livestock are located on the property, he said.
"The future of hunting belongs to those who are willing to accept full responsibility for not only their actions, but also for perpetuating wildlife and maintaining a high caliber of sportsmanship," Soring said.
Conserving natural resources
Fundamental to all hunting is the concept of conservation of natural resources. Hunting in today's world involves the regulated harvest of individual animals in a manner that conserves, protects and perpetuates the hunted population.
"Rules and regulations are a cornerstone of wildlife management," said C.B. Bylander, DNR Fish and Wildlife outreach section chief. "They are the tools wildlife managers use to protect species when needed, ensure harvests are within sustainable levels, manage experiences for a half-million hunters, and more."
He added that seasons, bag limits, shooting hours and other regulations are at the heart of why Minnesota can continually offer hunting and trapping seasons for more than 50 different species. Minnesota hunters play a major role in habitat and species conservation through their hunting license purchases. License revenue pays for the vast majority of the DNR's research, monitoring and management of the state's game species, as well as maintaining quality wildlife habitat on the state's 1.3 million acre wildlife management area system.
License revenue helps fund DNR conservation officers who enforce laws designed to protect species. Many hunters are also members of hunting organizations that help purchase habitat or provide stakeholder support to conservation initiatives. Duroe is a strong advocate of self-initiated conservation efforts.
"I live 6 miles straight east of Jeffers on the Little Cottonwood River where a buddy and I have planted about 35,000 trees in three plots located in three different sections of land," Duroe said. "We maintain a couple of food plots totaling maybe five acres."
The DNR's Bylander and Soring applaud Duroe. Bylander said the best way to help Minnesota wildlife is to ensure species have the space, food and shelter they need.
Minnesota's relationship to the land and its wildlife is part of the state's natural heritage. In 1998, voters amended the state constitution to affirm that hunting is a valued part of the state's heritage that is forever to be preserved. In 2008, voters again amended the state constitution, this time agreeing to tax themselves for 25 years in the name of large-scale habitat projects, clean water and other projects.
Meanwhile, the DNR has reduced barriers to hunting participation. This includes free or reduced-price licenses for youth, special youth seasons and hunts, mentoring opportunities, family outdoor skill-building events and more, including customer-friendly online firearms safety training and apprentice programs that provide for certain limited exemptions from firearms safety training requirements.
About the Minnesota Department of Natural Resources (MNDNR)
The Minnesota Department of Natural Resources is the agency of the U.S. state of Minnesota charged with conserving and managing the state's natural resources. The agency maintains areas such as state parks, state forests, recreational trails, and recreation areas as well as managing minerals, wildlife, and forestry. The agency is currently divided into sections Ecological Resources, Enforcement, Fish & Wildlife, Forestry, Lands and Minerals, Waterways, Parks and Trails, and Waters.