By Michelle Cerino
What began as a vision for Lisa Marie Judy a little more than a year ago grew into an amazing event with overwhelming support from the firearms industry.
Pro competition shooter Kay Miculek called it Judy's "baby." Judy's idea grew into the Brownells Lady 3-Gun Pro-Am Challenge and brought together at least 200 women to compete, cover for various media outlets, support and cheer each other on.
The South River Gun Club in Covington, Ga., hosted the event,from Oct. 31, to Nov. 1, 2014. Participants included doctors, geologists, farmers, retired teachers, mommies and the list could go on and on. Some competitors came to this adventure alone, while others brought daughters, sisters and friends to compete alongside them in squads. Competitors varied by age as much as by their day jobs. Shyanne Roberts was the youngest registrant, at 10. For some, it would be their first major 3-gun match, while others have been competing for years on the pro circuit.
Along with the match set-up, here is a short list of other things that made this event so enjoyable:
The official match photographer, Anthony Salazar, of ASAP photography, set up studio lighting in an unused shooting bay for those who wanted professional photos taken while wearing all their gear.
A 4-hour, 3-gun clinic – taught by pro-shooters Kay Miculek and her daughter, Lena Miculek-Afentul – covered everything from grip and stance, to 3-gun etiquette and how to make a stage plan. Many of the pros shot all 8 stages the day before the match. This not only allowed the other competitors an opportunity to watch them run their guns, it also freed up the pros during the regular match to help amateur squads.
An evening wine-and-cheese social, hosted by Gun Talk TV during registration, created the perfect opportunity for a few last minute discussions, helping calm nerves and setting minds at ease.
The availability of flush toilets.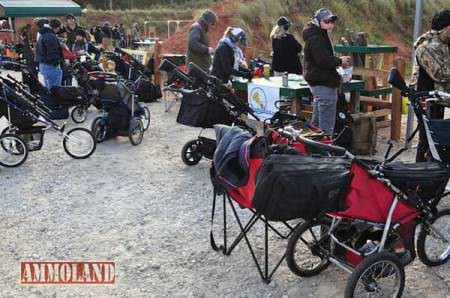 The match began on Halloween. As one can imagine, some of the women took advantage of this holiday to wear costumes. Decorated shooting buggies, converted strollers and wagons added to the mix, and the 8 stages looked like entrances to rides at Disney World. The festivities continued into the evening at a costume party back at the range, along with a 5.11 Tactical-sponsored dinner.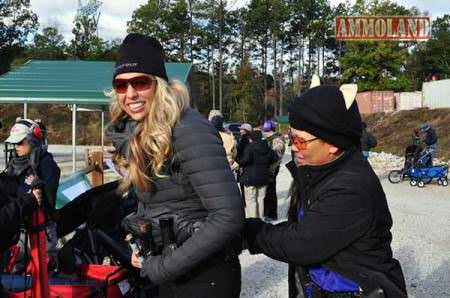 On day 2, competitors awoke to a 37-degree, blustery morning. Arriving in layers – wearing hats, scarves and gloves – shooters returned for another day. Although squads huddled together at the stages trying to keep warm, when it came time to shoot, things got serious. When on deck, the layers came off and with a little jumping up and down, and rubbing of hands, the women got to shooting.
Cherokee Run Golf Club hosted the awards dinner. Attending in dresses and heels, and without hats, many women didn't recognize each other. An air of relaxation and excitement filled the venue. With a slide show of the past few days' events playing in the background, Judy thanked the many sponsors and people that believed in, and supported her dream. She then proceeded to announce the usual ranked division awards, but then added a few additional prize categories:
Tom Kaleta, with Benelli, presented the "Top Amateur Competitor" award, with the ultimate 3-gun package. Junior shooter Ashely Rheuark received not only a shotgun, but also a pistol and rifle.
AR-15 Gun Owners of America gave away a rifle to the person Lisa Marie chose as "Most Deserving." A very surprised Julie Waasted accepted her gift of a KE Arms USM4 rifle.
ALG Defense gifted the last-place shooter, Shyanne Roberts, with a custom rifle in her favorite color, purple.
Everyone walked away from this inaugural event with a feeling of accomplishment. Not only were new experiences gained and goals met, but also many competitors returned home with newfound friends. A closed-group Facebook page that began with questions about the match continues to have posts of prizes won, photos taken and trips home. Of course the most asked question is, "What is the date of the Brownells Lady 3-Gun Challenge for 2015?"
We are all hoping, that with continued industry support, this was just the beginning. For as Lisa Marie mentioned in an interview, "Where the moms go, the families will follow."
Link to article: https://www.womensoutdoornews.com/2014/11/inaugural-brownells-lady-3-gun-pro-challenge-wild-success/
About Women's Outdoor News
Featuring news, reviews and stories about women who shoot, hunt, fish and enjoy adventure through the eyes of talented female columnists, reviewers, photographers and correspondents, Women's Outdoor News is your online resource for women in the outdoors. Read about influential women in the outdoor industry, learn about shooting sports and follow women who are passionate about hunting, fishing and pursuing adventure outdoors. Discover, engage and connect with members of Team WON at womensoutdoornews and on Facebook, Twitter and You-Tube.