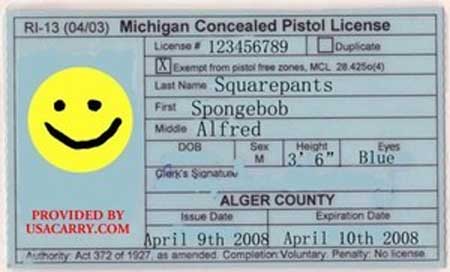 Charlotte, NC –-(Ammoland.com)-  November 13th 2014, the Michigan House Judiciary Committee heard testimony on Senate Bills 964, 965, 966 and 979, the Senate components of the Air Gun Reclassification Package, and Senate Bills 789 and 790, comprehensive concealed carry licensing reform.
A vote on all six of these bills is anticipated at its next committee hearing in December. Please contact members of the House Judiciary Committee and respectfully urge swift passage of these important pro-gun bills.
Also today, the Michigan House Judiciary Committee unanimously passed Senate Bill 977, which will now go to the House floor. Introduced by state Senator John Moolenaar (R-36), SB 977 seeks to provide active duty military personnel who are on duty orders outside of the state with the option to renew their Concealed Pistol License (CPL) through the mail. Please contact your state Representative and encourage him or her to support and vote for SB 977.
Yesterday, the Michigan House of Representatives overwhelmingly passed House Bills 5450, 5749 and 5750, part of the Air Gun Reclassification Package. These bills have been transmitted to the state Senate where they were assigned to the Senate Judiciary Committee. Please contact members of the Senate Judiciary Committee in support of HB 5450, HB 5749 and HB 5750.
The Air Gun Reclassification Package is an overdue fix to Michigan's firearms statute and seeks to achieve pragmatic and much-needed reform by redefining the term "firearm" in the Michigan Code to exclude devices that propel a projectile by gas, spring or air. The goal of this package is to relieve Michiganders, and those seeking to engage in interstate commerce with Michigan residents, from outdated and unduly burdensome restraints on the transfer, purchase and possession of most air guns.
Your NRA-ILA will continue to update you as these important bills move through the legislative process. Stay tuned to your inbox and www.NRAILA.org for new information.
About:
Established in 1975, the Institute for Legislative Action (ILA) is the "lobbying" arm of the National Rifle Association of America. ILA is responsible for preserving the right of all law-abiding individuals in the legislative, political, and legal arenas, to purchase, possess and use firearms for legitimate purposes as guaranteed by the Second Amendment to the U.S. Constitution. Visit: www.nra.org