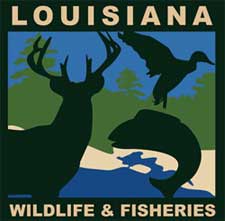 Abbeville, LA -(Ammoland.com)- A Monterey man was sentenced in 7th Judicial District Court in Concordia Parish on Nov. 14 for illegal night hunting.
Judge Kathy Johnson sentenced Duell S. Moreland, 24, to 60 months of hard labor with 40 months suspended, 30 days in jail and to a 15-year no hunting ban. Agents from the Louisiana Department of Wildlife and Fisheries (LDWF) and U.S. Fish and Wildlife Service (USFWS) arrested Moreland on Jan. 31, 2014.
The agents observed Moreland night hunting on foot on an All-Terrain Vehicle trail located on the Bayou Cocodrie National Wildlife Refuge (NWR). The agents were able to make contact with Moreland after a brief chase. Moreland was found hunting after hours with a cross bow equipped with a night vision scope along with a .444 primitive rifle.
Moreland was booked into jail for hunting deer during illegal hours, failing to comply with deer tagging requirements, resisting an officer, hunting deer using illegal methods, using a firearm/archery equipped with illegal sights and not possessing a resident hunting license. The agents seized all the equipment.
USFWS Agent Mark Cupit and LDWF Sgt. Trey Mason participated in the case.
About the Louisiana Department of Wildlife and Fisheries (LDWF)
The Department of Wildlife and Fisheries is charged with managing and protecting Louisiana's abundant natural resources.