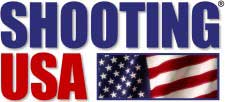 USA – -(Ammoland.com)- Shooting USA – Bushnell Precision Rifle
Pros are paired with new shooters to take on long distance shooting challenges at the Bushnell Tactical GAP Grind in the Florida panhandle. Then, it's one of the most popular competitions at the National Matches, when shooters compete with the legendary M1 Garand. Plus, how the fictitious Buntline Special is now one of History's Guns, even without real history. And John Paul shows us some unusual shooting positions that will lead you to a win.
Shooting USA's Impossible Shots – Taran from the Hip
This time it's a trip to Hollywood California and the home range of Pro Shooter, Taran Butler. Anytime we work with Taran, we never know who might show up and throw some lead down range. This time its Josh Duhamel, star of the Transformers movies, tuning-up his gun handling for his next film. Then it's Taran's turn. His Impossible Shot is fast-draw, with his production Glock, at speeds you will not believe!
AIR TIMES BY TIME ZONE
The Shooting USA Hour Wednesdays:
Eastern Time: 3:30PM, 9:00PM, 12:00 Midnight
Central Time: 2:30 PM, 8:00 PM, 11:00 PM
Mountain Time: 1:30 PM, 7:00 PM, 10:00 PM
Pacific Time: 12:30PM, 6:00 PM, 9:00 PM

Shooting USA is listed as a one-hour show in your cable menu.
Shooting USA's Impossible Shots
Eastern Time: 11:00 AM, 7:00 PM, 2:00AM Thurs
Central Time: 10:00 AM, 6:00 PM, 1:00AM Thurs
Mountain Time: 9:00 AM, 5:00 PM, 12:00AM
Pacific Time: 8:00 AM, 4:00 PM, 11:00PM
History Relived & 3-Gun Competitor Found
This week we're producing one story that has shaped our history, and another that is opening up a modern sport. Producer Mark Shafer and the crew were on the battlefield with hundreds of reenactors for the 150th anniversary of the Battle of Franklin in Tennessee. While John and his team met an inspiring new 3-gun competitor – with no hands. See how Hunter "Nubs" Cayll takes on the challenging sport, and how Civil War history is honored and relived, all ahead in the coming weeks!
Follow the Action
Be sure to "Like" the Shooting USA Show Page on Facebook to be in touch with what we're doing on TV and behind the scenes:
https://www.facebook.com/JimScoutten.ShootingUSA
Jim
Defending the 2nd by Example in the 21st Year
[email protected]