New quail focus areas present opportunity to expand bobwhite quail populations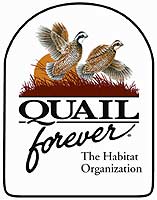 Sparta, TN -(Ammoland.com)- Quail Forever (QF), a leader in national quail habitat conservation, is expanding staff in Tennessee, positions that dovetail with the establishment of four quail focus areas by the Tennessee Wildlife Resources Agency (TWRA).
The new quail focus areas and Quail Forever staff advance the recently-completed Tennessee Northern Bobwhite Quail Restoration Plan to bring bobwhite quail back to prominence in the state. As part of the Tennessee Northern Bobwhite Quail Restoration Plan, the TWRA has designated four of its wildlife management areas (WMAs) to serve as anchors within a new quail focus area.
The four WMAs are spread across Tennessee and include Wolf River WMA (Fayette County), Bark Camp Barrens WMA (Coffee County), Bridgestone/Firestone Centennial Wilderness WMA (White County), and Lick Creek Bottoms (Greene County). Anchor area efforts will focus on maximizing ideal habitat and conditions to foster a healthy and prolific quail population. As the quail population increases, it should expand into the surrounding focus area if suitable habitat exists. The focus areas will consist of private and other public lands that have the potential to hold suitable quail habitat.
"Quail Forever is excited to get started with the implementation of focus areas for bobwhite quail in Tennessee," said Kent Adams, eastern regional director for Quail Forever. "Our new staff will focus their efforts on working with chapters and landowners to further advance the upland habitat restoration work being done by the Tennessee Wildlife Resources Agency. We are excited to 'step up our game' to increase populations of bobwhite quail in the state."

"We are excited to bring on David Peters as our third Quail Forever farm bill wildlife biologist in Tennessee," said Mark Gudlin, assistant chief of the wildlife and forestry division for TWRA. "Our current Farm Bill staff is doing great work in western Tennessee with landowners and Quail Forever chapters to create habitat on the ground. David will be targeting the promotion of bobwhite habitat, shortleaf pine and stream buffers that benefit both aquatic and terrestrial wildlife. He will work closely with local TWRA biologist Michael McCord to reach and assist more landowners in developing and managing habitat to increase populations of bobwhites, rabbits and other wildlife. The TWRA quail anchor in this region is the Bridgestone-Firestone WMA."
Quail Forever Staff Additions in Tennessee
Andy Edwards – Transitioning to a full-time employee with Quail Forever, Edwards resumes his position as regional field representative in Tennessee. Originally from Pulaski, Edwards grew up on a farm where he learned to appreciate the state's wildlife. Graduating from the University of Tennessee, he went on to get his Master's in Bear Research. In his role, Edwards looks to further develop Quail Forever's presence in Tennessee, which is currently home to 10 Quail Forever chapters and more than 775 members. For more information regarding Quail Forever in Tennessee or to start a chapter, contact Andy Edwards at 931-638-9478 / email.
David Peters – Recently starting with Quail Forever in Tennessee as a Farm Bill wildlife biologist, Peters' main role will include working with farmers and landowners to deliver conservation planning on a landscape level to improve wildlife habitat throughout his assigned area in Tennessee. In addition, he will aid in the establishment and management of bobwhite quail habitat in and around the White County focus area designated by the TWRA. Peters' will add conservation program technical assistance in USDA offices throughout his assigned counties of Van Buren, Bledsoe, White, Sequatchie, Grundy, Fentress, Morgan and Cumberland Counties, with specific focus on shortleaf pine habitat restoration and management. For more information on conservation programs available to landowners in Tennessee, contact David Peters at 276-690-4206 / email.
About Quail Forever
Quail Forever is the quail conservation division of Pheasants Forever. The organization is the nation's largest nonprofit organization dedicated to upland habitat conservation. Pheasants Forever and Quail Forever have more than 140,000 members and 745 local chapters across the United States and Canada. Chapters are empowered to determine how 100 percent of their locally raised conservation funds are spent; the only national conservation organization operating through this truly grassroots structure. Since its creation in 1982, the organization has spent $508 million on 475,000 habitat projects benefiting 10 million acres nationwide.