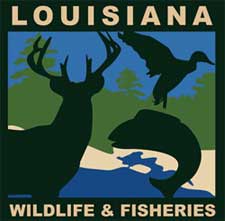 Abbeville, LA -(Ammoland.com)- A Raceland man pleaded guilty to several hunting violations on Nov. 5 in the 17th Judicial District in Lafourche Parish.
Judge John E. Leblanc sentenced Eric Savoie, 37, to a total of $3,750 in fines, 120 days of imprisonment suspended, and has to forfeit a 7 mm rifle with scope, 12-gauge shotgun and .22 rifle in connection with the hunting violations. Savoie also faces up to $3,249 in civil restitution for two illegally taken deer.
Louisiana Department of Wildlife and Fisheries (LDWF) Enforcement Division agents cited Savoie for deer hunting violations on Christmas day, Dec. 25, 2013 on Eagle Island.
Agents cited Eric Savoie, 37, for hunting or taking deer during illegal hours, failing to tag deer, over limit of deer, taking deer illegally during an open season, hunting deer without a big game license, and hunting with an unplugged shotgun. Savoie pleaded guilty to these charges.
On Dec. 24, LDWF agents received a complaint that Savoie had killed two does at night on Dec. 20. When agents approached Savoie's residence on Eagle Island on Dec. 25, agents observed Savoie seated at the rear of his residence with a loaded 7 mm rifle in hand and a loaded 12 gauge shotgun with buckshot, a loaded .22 rifle and using a utility street light to shine deer to shoot them at night.
Upon further investigation, agents learned that near the light Savoie placed several pounds of soybeans on the ground to attract deer at night. After Savoie was disarmed by agents, Savoie was questioned. Savoie admitted to harvesting two antlerless deer during illegal hours on Dec. 20 and attempting to harvest more deer during illegal hours on the night of Dec. 25.
Agents involved in case are Lt. Joseph Arnaud and Senior Agents Jamie Folse and Ryan Breaux. District Attorney Camille A. Morvant II prosecuted the case.
For more information, contact Adam Einck at 225-765-2465 or [email protected]
About the Louisiana Department of Wildlife and Fisheries (LDWF)
The Department of Wildlife and Fisheries is charged with managing and protecting Louisiana's abundant natural resources.