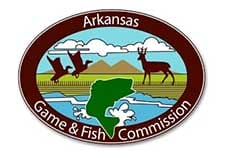 Arkansas –-(Ammoland.com)- The late afternoon sun was sinking when the deer stepped out in front of Maxine Byrd.
Nice set of antlers. She raised her 7mm Magnum rifle, aimed carefully and squeezed the trigger. The deer, 60 yards away, fell dead.
Her son, Terry Byrd, was nearby, and they tagged the deer then moved it to a shed to dress it out. In a few minutes, a surprised Terry said, "Wait a minute. This deer doesn't have the right parts."
The nice racked, 9-point deer was a doe.
Sonny Thompson, a biologist with the Arkansas Game and Fish Commission, came to the Byrd home, carefully looked over the deer and confirmed that it was a female with a set of antlers most male deer would envy. In spite of the scrambled genders, the deer was large and appeared healthy.
Unusual? Certainly. Cory Gray, AGFC deer program coordinator, said, "This is a female deer with an unusually high level of testosterone. I have seen maybe three of this type of deer. Usually, the antlers are gnarly or in velvet and not fully developed like this one."
Wildlife biologists said these doe rarely give birth to fawns, and Thompson said the doe taken by Byrd was not lactating.
Maxine Byrd is 72 years old and was hunting on her 75-acre place near Ida in Cleburne County. It's north of Greers Ferry Lake. She is an experienced deer hunter of many years, and this season she had already taken an 8-point buck with her muzzle-loading rifle.
She said, "I really enjoy hunting when the grandkids are out there with me. It was special when one of them got a deer and told me, 'Grandma, I killed a deer with my own compound bow.'"
Byrd, a widow, and her family work their land to encourage deer and other wildlife.
She said, "We put in food plots, and we use deer feeders. We feed both corn and rice bran."
AGFC officials instructed Maxine to count the deer as a buck since she had tagged it that way. With her earlier 8-point, she has reached the season limit with bucks. "But I can still try for a doe," she said.