By Carrie Lightfoot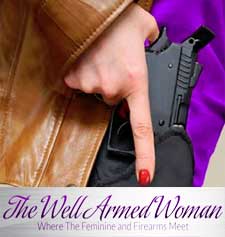 Scottsdale, Arizona –-(Ammoland.com)- Life sure gets incredibly busy in November, doesn't it?
There is however something we all must do this week to start it off right – VOTE!
Please don't be the person on the right of this cartoon.
Believe me, I know there is much to complain, moan, and whine about these days and that perhaps our discouragement lures us to just not bother. We must however, be women of action and use the right we have as Americans and vote. We must be participants in the process and take the personal responsibility to create change.
Below is a video montage I have created to help personalize just how important our right to protect ourselves with a firearm is! I think it is a very powerful representation and encourage you to share and post it everywhere you can. Some believe that the guns are the problem and that we as women require their political solution to protect us from them.
We don't need protection from guns; we need to be equipped to protect ourselves with a gun against violent attackers!
I want to thank all of the women that contributed to this powerful message!
Carrie
About The Well Armed Woman:
The greater my interest and passion for guns grew, the more I found that the women I knew and worked with responded with excited curiosity to my new enthusiasm. Women wanted to know more and couldn't wait to try firing a gun!
I'll introduce you to the ins and outs of armed self-defense, gun ownership, gun safety, products for women shooters. We'll discuss everything from permits to holsters and do it in a candid and concise manner. I created The Well Armed Woman, LLC to be a complete resource without fluff or frills for women gun owners. Visit: www.thewellarmedwoman.com