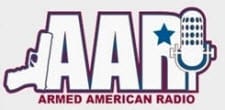 USA – -(Ammoland.com)- The Crossbreed Holsters Studios of Armed American Radio with Mark Walters will move to the classroom this weekend.  This Sunday's national broadcast will come live to the nation from Norcross, GA immediately following the Massad Ayoob Group MAG 20 lecture/class.
"This weekend's national program will be a tremendous amount of fun and incredibly informative for listeners across the country.  Within minutes of completing Massad Ayoob's MAG 20 course, I will set up the mobile AAR studio and spend the next three hours with Massad Ayoob and Gail Pepin on air from the classroom facility. "

"Widely regarded as the nations preeminent course on the use of deadly force, together we'll be able to bring first hand information to the national audience on this incredibly important topic for Americans who have made or are considering making the decision to arm themselves."
Armed American Radio is distributed nationally by Salem Radio Network and heard in hundreds of cities every Sunday 8-11p ET, 5-8p PT.
For more information about Mark Walters and Armed American Radio, please visit: www.srnonline.com and www.armedamericanradio.com
About the USCCA:
The U.S. Concealed Carry Association (USCCA) is the first and largest, member-owned association designed to educate, train, and insure responsibly armed Americans. USCCA members receive access to a wealth of industry information and insurance protection through its Self-Defense SHIELD program. The USCCA also provides expert advice, product information, and the latest news centered around the concealed carry lifestyle via email, social media, Concealed Carry Magazine, and their nationally syndicated radio program Armed American Radio.
The United States Concealed Carry Association is a subsidiary of Delta Defense, LLC. Delta Defense, LLC was founded in 2004 by Tim Schmidt and is committed to supporting and educating responsible Americans who carry concealed.