From Ted in Colorado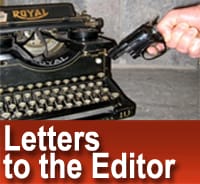 Colorado –-(Ammoland.com)- To the [author of "I Am No Longer A Republican" and] all those readers who are disgruntled with Washington Republicans, and threaten to Go Libertarian or follow some such course, this letter is addressed.
America is encased in a two party system, like it or not, and will not change anytime soon, if ever. Every vote for a minor party is a vote thrown away.
When you are unhappy with the Republicans (the only choice for conservatives), write them. Speak up. Many of us think likewise. But better to hold your nose and vote for a "weak" Republican than to stay away from the poll and ALLOW the opposition, i.e. the socialist gun- hating liberal Democrats, to win.
Barack Obama was elected because nearly 4 million conservative voters didn't bother to make it to the polls, and were "protesting" by not showing up.
Had they voted for Romney instead, he would be president now. Thanks a lot.
Look in the mirror and accept the responsibility for engaging and trying to influence Republicans to your way of thought.
This takes courage, patience and stubbornness. This is the only way to win. Grow up and show up.
Ted
Almont CO
About AmmoLand Letters to the Editor:
Letters to the AmmoLand Editor: Got something on your mind? Let us know and you can see it here. EMail us at [email protected] Subject "Letter To The Editor" .