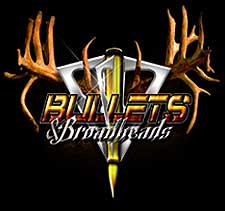 USA –-(Ammoland.com)-   Everything is bigger in Texas, and nothing is more true when talking about the heart and work ethic behind every episode of Bullets & Broadheads, featuring Michael and Sonia Hendrick and their two children. Now beginning season four with brand new episodes, Bullets & Broadheads keeps family values going strong with every stalk and chase near their Texas home. Tune in Sunday nights beginning January 4 at 7 p.m. ET exclusively on Sportsman Channel.
Learn more at http://bulletsnbroadheads.com
From bowhunting big whitetails in central Texas to chasing "speed goats" aka pronghorn antelope, Michael, Sonia, Michael J. and McKenzie, get in on all the opportunities hunting in Texas offers. The crew evens travel to British Columbia to chase big bruins.
"This season you'll see more of us as a family unit hunting together as we want to drive home you can affordably and easily spend time with your children outdoors," said Michael Hendrick. "They get me excited when I see the look on their faces when we spot a buck of any size. Its not always about taking home a trophy in this season. And you'll never hear Sonia or I say a bad word on the show – this is a family outdoor show you can comfortably watch together."
In the season premiere on January 4 at 7 p.m. ET, a nine-year-old McKenzie is looking to harvest her first ever whitetail buck. With the help of her mom, McKenzie will get the experience and knowledge needed on how to be a successful huntress. After days of waiting for a mature buck to show, will McKenzie have the patience to hold our and to make the perfect shot?
"Thanks to our new sponsors like Cabela's and Road Armor, and returning sponsors like Badlands and Hornady Ammo, we were prepared to really go after the monster bucks on highly-managed land in Texas," said Sonia Hendrick.

"We are excited to be an official part of Cabela's pro-staff. Michael and I have attended trade show and numerous events promoting their brand as we so enjoy their stores and products. I can't wait to show more young huntresses the ropes at Cabela's events."
Big country, big whitetails, big hearts and big family ties – Bullets & Broadheads is a true grit, real story, Texas country outdoor show. For generations, the Hendrick family grew up harvesting trophy wildlife from the far stretches of Texas underbrush. Today, Michael, Sonia, Michael J., and Mckenzie share those traditions in search of their next monster whitetail. Texas is big country, where the hunts are wild, the people are a dose of southern comfort and family blood comes first.
The Hendricks bring Texas living, community and conservative hunting to viewers across the nation.
New sponsors of Bullets & Broadheads for 2015 include: Cabela's, Road Armor, Ultimate Wild, Graffix Express, Tacacam and Anilogics Outdoors. Returning sponsors are: Badlands, Crossbreed Holsters, Hornady Ammo, Caldwall Shooting Supplies, Birchwood Casey and Lumenok.
Learn more about Bullets & Broadheads at http://www.bulletsnbroadheads.com and on Facebook at https://www.facebook.com/pages/Bullets-Broadheads/107777472594725?ref=hl