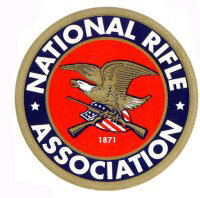 FAIRFAX, Va. –-(Ammoland.com)- The National Rifle Association is proud to announce its continued partnership with Cabela's, who will be the Associate Sponsor of the Great American Outdoor Show for the second consecutive year.
Held February 7-15 2015 at the Pennsylvania Farm Show Complex in Harrisburg, PA, the Great American Outdoor Show is the largest sporting and outdoor show in the world.
"It's an honor to partner with Cabela's to make the Great American Outdoor Show a showcase of our country's outdoor traditions." said Kyle Weaver, Executive Director of NRA General Operations.

"The relationship between our organizations is strengthened by sharing those traditions with outdoor enthusiasts who come to Harrisburg from across the country."
The Great American Outdoor Show celebrates the outdoor traditions treasured by millions of Americans and their families in a 650,000 square foot exhibit space that will feature nearly 1,100 exhibitors, including shooting manufacturers, outfitters, boats, RVs, hunting and fishing retailers, and much more.
"Cabela's and the National Rifle Association have had a longstanding partnership in preserving, protecting, and promoting hunting, fishing, and the shooting sports," said Tommy Millner, Cabela's Chief Executive Officer. "No event bolsters our sporting traditions better than the Great American Outdoor Show and we are excited to help in its success."
To find out more information or purchase tickets to the 2015 event, visit the Great American Outdoor Show website at www.greatamericanoutdoorshow.org.

About Cabela's Incorporated
Cabela's Incorporated, headquartered in Sidney, Nebraska, is a leading specialty retailer, and the world's largest direct marketer, of hunting, fishing, camping and related outdoor merchandise. Since the Company's founding in 1961, Cabela's has grown to become one of the most well-known outdoor recreation brands in the world, and has long been recognized as the World's Foremost Outfitter. Through Cabela's growing number of retail stores and its well-established direct business, it offers a wide and distinctive selection of high-quality outdoor products at competitive prices while providing superior customer service. Cabela's also issues the Cabela's CLUB® Visa credit card, which serves as its primary customer loyalty rewards program. Cabela's stock is traded on the New York Stock Exchange under the symbol "CAB".
About the National Rifle Association
Established in 1871, the National Rifle Association is America's oldest civil rights and sportsmen's group. Five million members strong, NRA continues its mission to uphold Second Amendment rights and is the leader in firearm education and training for law-abiding gun owners, law enforcement and the military. Visit http://nra.org.