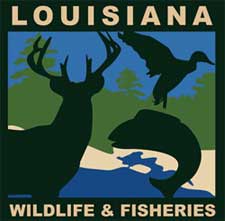 Coushatta, La -(Ammoland.com)- A Louisiana Department of Wildlife and Fisheries (LDWF) Enforcement Division agent cited a Coushatta man on Dec. 4 2014 in Red River Parish for alleged deer hunting violations.
LDWF Sgt. Charles Dison cited Jason Ivey, 46, for taking over the daily limit of antlered deer, taking over the season limit of antlered deer and failing to comply with deer tagging requirements.
Sgt. Dison stopped Ivey's truck on Highway 71 after observing two deer on an all-terrain vehicle in the bed of Ivey's truck without tags.
After further investigation, Dison found that Ivey had an antlerless tag attached to a spike buck that was not filled out.  Both deer in the bed of the truck were antlered deer.  Dison also found that Ivey had already harvested two antlered deer already this season putting these two antlered deer one over his season limit of three.
Possessing over the daily and season limit of deer each brings a $250 to $500 fine and up to 90 days in jail for each offense.  Failing to comply with deer tagging requirements carries a $100 to $350 fine and up to 60 days in jail.  Ivey could also face civil restitution charges of $1,624 for the replacement value of the deer.
For more information, contact Adam Einck at [email protected].