By Gerry and Janet Souter
Illinois –-(Ammoland.com)- Historians Gerry and Janet Souter take the reader back to a time between 1840 and 1940 when men and women traveled an imaginary twisting outlaw path, the "Owlhoot Trail," where outlaws and man hunters lived bold and died hard.
In their new book, Guns of Outlaws — Weapons of the American Bad Man , the pages show actual tools of the trade wielded during a violent century, bound up in a mix of hard truths and mythology. The only solid reality left behind are these trusted relics, aged and showing holster wear with salt-etched pits from sweaty gun powder-stained hands.
Visit the owners of these antique killing machines, some not too bright, most favoring a simplistic path to conflict resolution: "Shoot the son of a bitch." Sociopaths all, seasoned with toxic psychopaths, snake fast with a six gun, or reveling in the chatter of a Thompson submachine gun chewing its way through writhing targets – and we're talking about both sides of the badge. In Guns of Outlaws, you see their talismans and hear their blood-soaked sagas, tales of redemption and damnation, all recalled from gun smoke memories.
Excerpt Two: Sidebar – The Gun That Never Was – Stuart Lake's Gift to Western Fiction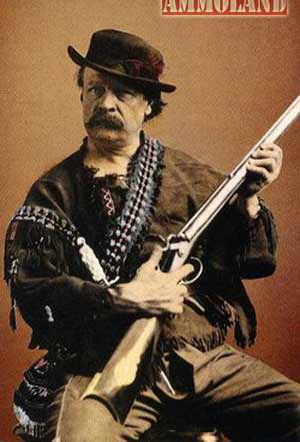 Ned Buntline was a self-promoting pulp writer whose purple prose spun tales of fictional heroes in action. In 1876, it is alleged (by Lake) that Buntline made gifts of a special Colt Single Action Army revolver with a 12 inch barrel and detachable shoulder stock to five worthy and famous lawmen who once wore Dodge City badges. Among them was Wyatt Earp.
The first mention of this gift was in Stuart N. Lake's iconic book, Wyatt Earp, Frontier Marshal . Both the gun's importance and Earp's post mortem reputation grew in direct proportion as he allegedly wielded the long–barrel six-gun in the name of justice.
Today, Buntline the author, Lake the author, the gun, the gift, and Wyatt Earp have all fallen under the probing gaze of hard nose historians. These burrowing researchers have uncovered a trail of contrary evidence and conundrums in pursuit of the truth.
Ned Buntline was born Edward Zane Carroll Judson on March 8, 1821.His first story was published at age 17 when he was serving as an acting naval midshipman, He was a natural popular writer and churned out sea adventures for many national publications. He tried his hand publishing magazines under his "Ned Buntline" nom de plume, but they all folded. His works didn't veer into Western stories until Buffalo Bill Cody returned from his Wild West Show's European tour in 1869 with great fanfare and hooplah. Buntline met Cody, was impressed with the larger than life Western icon and dashed off four pulse pounding adventures including Buffalo Bill, King of the Border Men!  That was immediately serialized by the Street & Smith's New York Weekly.
The extent of Buntline's literary career can be summed up in his re-write of Buffalo Bill's Last Victory, or Love Eye the Lodge Queen into the stage play, Scouts of the Prairie! Indian Deviltry As It Is! In this production, besides the hammy scenery chewing of Buffalo Bill, Texas Jack Omahondro and (mostly drunk) Wild Bill Hickok, Buntline took a role as the drunken "Cale Durge" who embraces temperance but is killed off in the second act. Wiping tears of hysteria from their eyes, critics speculated Buntline's demise should have occurred early in the first act.
Everyone who sat through a performance agreed that the play sent legitimate theater back to the Stone Age.
`Meanwhile, according to the Wichita Weekly Beacon, Wyatt Earp was bounced out of their Kansas town with a vagrancy rap hanging over his head and moved on down the road to Dodge City, where, the Beacon further reported; on May 24, 1876 he had joined the Dodge City Police Department. At this point, his career as a lawman was hardly illustrious and his exploits were unknown outside of Kansas.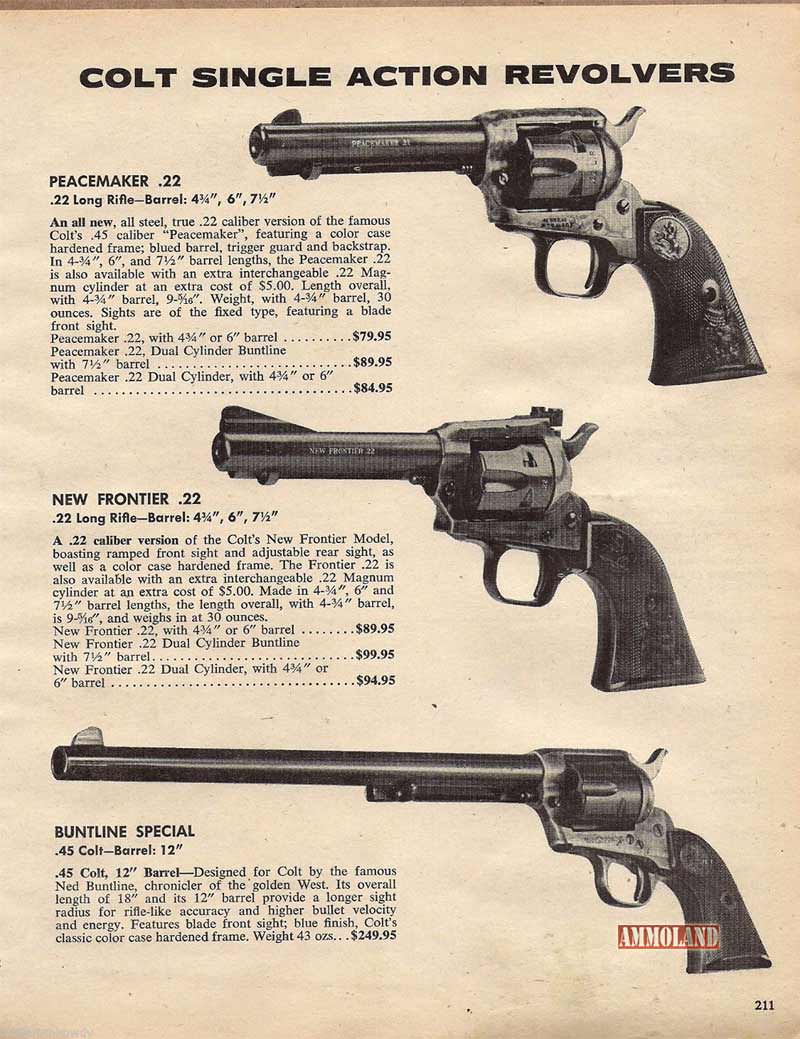 Another recipient of a "Buntline Special" Colt was Bill Tilghman for his stellar work in Dodge. Tilghman was actually an army scout until 1877 when he arrived in Dodge and took a job as a deputy sheriff of Ford County. To make financial ends meet, he opened two saloons to augment his paycheck. He became city marshal in 1884.
In any case, according to Lake, Buntline ordered five Colt Single Action Army revolvers in ,45 Long Colt caliber from the factory. Each had a twelve-inch barrel, wood grips with "Ned" carved in them, a hand-tooled holster, and a detachable shoulder stock complete with a buckskin sling to hook around a saddle horn. The guns were presented to Wyatt Earp, Bill Tilghman, Bat Masterson, Charlie Bassett and Neal Brown between May and July in 1876.
According to the Colt factory, no order for five revolvers with that barrel length was ever received – even though Colt did sell extra long barrel versions at one dollar an extra inch over the seven and a half inch standard Peacemaker. A Colt with a factory sixteen-inch barrel was available and had been shown at the Philadelphia Centennial Exposition in 1876.
It is possible that weapon inspired Lake to include its unique counterpart in the Earp saga. Regardless, none of the long barreled Colts left the factory for sale until December, 1877.
Even more curious, no mention of the fabulous "Buntline Special" or writings about Ned Buntline's gifts to the lawmen appears until Lake's "biography" was published in 1931.
Like Bat Masterson, who ordered six Colt revolvers from the factory during his years behind a badge, Earp preferred a shorter four and three-quarter-inch or five and a half-inch barrel. And finally, writing in a letter to a friend about his days as a peace keeper, Wyatt admitted, ""I never carried a gun only upon occasion and that was while on duty as an officer of the law . . . ."
End of sidebar.
Editors Note: This is a brief excerpt from the new book "Guns of Outlaws – Weapons of the American Bad Man". In coming days AmmoLand will feature more excerpts from this highly interesting book.
Find your copy of Guns of Outlaws: Weapons of the American Bad Man on Amazon.
ABOUT THE AUTHORS
Janet Souter has authored or coauthored more than forty nonfiction books in the areas of history, biography, young adult, art, military history, business, and the Internet.
Gerry Souter attended the Art Institute of Chicago and the University of Chicago. He has worked as an art teacher, photographer, a security guard, a rifle instructor, and a seaman in the Merchant Marine. He and his wife, Janet Souter, have authored or coauthored more than forty nonfiction books in the areas of history, biography, young adult, art, military history, business, and the Internet.
Janet and Gerry live near Chicago. http://soutergunsofoutlaws.net/
William B. Shillingberg, Wyatt Earp and the "Buntline Myth", Kansas Collection, Kansas Historical Quarterly, copyright, 1976, the author

(Note) Although Colt displayed some long-barreled single action revolvers at the 1876 Centennial, it was not until December 1, 1877, that any left the Hartford assembly plant for actual sale. Besides, five guns were not involved in this shipment, nor were they sent to Ned Buntline or even to a New York dealer. Instead, this order consisted of four 16-inch .45 caliber single actions, assembled with the now rare semi-flattop frame (not "regulation . . . style"), shipped to B. Kittredge & Co. of Cincinnati, Colt's main Western agent. [69] These guns, advertised with a "long carbine barrel," sold for $5 above the standard price.(Shillingberg)

(Note – O.K. Corral) The shotgun Doc Holiday carried was either a W. W. Greener, his personal Colt Shotgun, or more likely a Belgian Eclipse "Meteor" 10 gauge double barrel weapon with no shoulder stock and the barrels trimmed back to 18 inches commonly referred to as a "Whippet." Gun. (Rosa, Shillingberg, O'Neal)