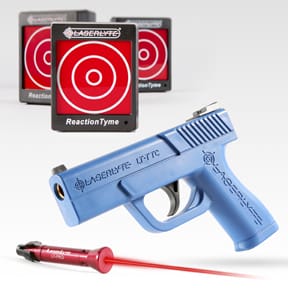 Cottonwood, Ariz. (Ammoland.com)– LaserLyte, innovators in firearms laser technologies, proudly introduce the seriously fun laser Triple Tyme Kit  ( tiny.cc/pztbrx ).
Consisting of the LaserLyte Reaction Tyme Targets (3), a Trigger Tyme Compact Training Pistol and a LT-PRO Pistol Laser Trainer. Everything anyone needs to train, teach or just have fun anywhere, anytime.
The Trigger Tyme pistol cannot accept or fire ammunition, making it a safe training tool for all ages and skill sets. The compact size of the pistol is ideal for training young shooters and individuals with small hands.
The Reaction Tyme Targets work independently of each other allowing for a variety of shooting scenarios. The interactive target system works in two modes; reaction and training. The reaction mode features random LED signals in intervals of 3 to 7 seconds that can be shot by the Trigger Tyme compact pistol or any other LaserLyte Trainer. The training mode allows the user to practice trigger control and accuracy with an always on and ready-to-be-shot mode. When a hit is made the target sounds 2 beeps and a LED flash.
The LT-PRO is easily inserted into the muzzle end of the Trigger Tyme pistol for hours of training and fun. It can also be used in a real firearm for realistic training with the user's actual carry firearm. MSRP for the LaserLyte TLB-TTK is $279.95.
LaserLyte continues to get sport shooters and professionals on the target faster, increasing accuracy and overall hits with affordable and fun laser training tools.
Order you own LaserLyte Triple Tyme Kit on Amazon: http://tiny.cc/pztbrx
For more information, visit www.laserlyte.com.
LaserLyte TLB-TTK package Specifications Include:
LaserLyte TLB-RT:
Works with any of the LaserLyte Trainers: LT-PRO, LT-223, LT-380, LT-9, LT-40, LT-45
Three Targets with 2.5 inch diameter shooting ring
Batteries:                             3 x AAA
Battery Life:                         6,000 shots
Activation:                            LaserLyte® Laser Trainer
Weight:                                4.25 oz. / 119 gr.
Length:                                1.30 inches / 33.43mm
Width:                                  3.00 inches / 75.96mm
Height:                                 3.74 inches / 95.00mm
LaserLyte Trigger Tyme Compact Pistol (LT-TTC):
Weight:                                 10.50 ounces/.297 kg
Length:                                  6.00 inch/15.24 cm
Width:                                   1.00 inch/ 2.54 cm
Height:                                  4.75 inch/ 12.06 cm
Material:                               High Impact ABS Plastic
LaserLyte LT-PRO:
Minimum 2-inch barrel required
Fits calibers: 9mm, .40 S&W, .45 ACP, .38 SP, .380 Auto, .357 SIG, 10mm and .45 LC.
Near flush fitting to muzzle design
Allows more advanced training scenarios
Hammer or striker fired laser activation for 100 milliseconds
Patented adjustment system
Length:                                 2.1 inches
Min. Diameter:                     .1 inch
Max. Diameter:                    .5 inch
Run Time:                             3,000 shots
Batteries:                              3 x 377
Activation:                             Sound of striker or hammer
About LaserLyte:
LaserLyte, the leader in laser technology for over 26 years. Our mission is to heighten the experience of shooting. LaserLyte offers a 3-year warranty for all products sold new. For additional information about LaserLyte, visit www.laserlyte.com .
Visit the LaserLyte YouTube page for all the latest LaserLyte action.