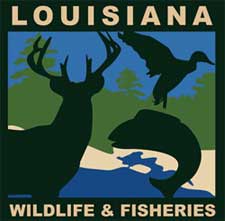 Louisiana -(Ammoland.com)- — Each year, the Louisiana Department of Wildlife and Fisheries (LDWF) Wildlife Division schedules either-sex firearms deer hunts on many of the state Wildlife Management Areas (WMAs).
These opportunities are greatly anticipated by many hunters across the state and out-of-state as well. The hunts provide time when deer hunters and their families can enjoy the outdoors and have the opportunity to harvest deer of either-sex.
Good hunter participation and ample opportunity continue to result in good harvest rates and hunter success, and this year was no different. This year 26,469 hunter efforts were tallied during the 37 managed hunts that provided opportunities. Richard K. Yancey, Fort Polk, Dewey W. Wills, Sherburne and Boeuf WMAs attracted the greatest numbers of hunters with Richard K. Yancey drawing 5,264.
The total deer harvest for the 37 hunts was 2,600 which included 1,323 bucks and 1,215 does.
Wildlife Division personnel were able to collect valuable data during these hunts which help them manage each WMA's deer herd.  WMA hunter efforts were consistent with past years while having a slightly higher success rate.  To view the full list of WMAs and data collected, go to http://www.wlf.louisiana.gov/hunting/deer/seasons and scroll down to the Documents section.
WMAs are distributed across the state and within a reasonable drive from any location.  WMA habitats for these hunts range from upland hardwood and pine sites to bottomland hardwoods. To view a complete list of state WMAs, visit http://www.wlf.louisiana.gov/wma .
The Louisiana Department of Wildlife and Fisheries Wildlife Management Area Program is charged with providing necessary habitats to manage and protect both game and non-game wildlife, as well as to provide quality outdoor recreation for the public.
For more information: visit us at www.wlf.louisiana.gov, at www.facebook.com/ldwffb; on Twitter @LDWF