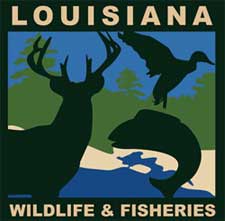 Abbeville, LA -(Ammoland.com)- Louisiana Department of Wildlife and Fisheries Enforcement Agents arrested a Jones man for deer hunting and narcotics violations on November 17.
Agents arrested Cody L. Pollock, 23, for possession of marijuana with the intent to distribute, possession of synthetic marijuana and possession of drug paraphernalia. Agents also charged Pollock with taking over the daily limit of deer and two counts of failing to comply with deer tagging requirements.
Agents responded to Pollock's address to question him in reference to a complaint he had taken over the limit of deer. Pollock opened the door to his home and agents witnessed and smelled marijuana smoke.
Upon questioning, Pollock told agents he had a substantial amount of marijuana inside his travel trailer and two antlerless deer that he took that morning quartered. Agents recovered two quart sized bags of marijuana, 11 individually wrapped baggies for individual sale and the two quartered antlerless deer.
Possession of marijuana with intent to distribute brings five to 30 years in prison and up to $50,000 in fines. Possession of marijuana and drug paraphernalia each carries up to a $500 fine and up to six months in jail for each offense. Possessing over the legal daily limit of deer brings a $250 to $500 fine and up to 60 days in jail. Failing to tag a deer carries a $100 to $350 fine and up to 60 days in jail. Pollock may also face civil restitution of $1,624 for the illegally taken deer.
Agents involved in the case are Sgts. James Hagan and Darren Bruce.
About The Louisiana Department of Wildlife and Fisheries (LDWF)
The Louisiana Department of Wildlife and Fisheries is charged with managing and protecting Louisiana's abundant natural resources. For more information, visit us at www.wlf.louisiana.gov on Facebook at www.facebook.com/ldwffb or follow us on Twitter @LDWF.