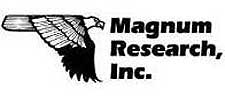 Pomona, NY -(Ammoland.com)- Just in time for every gun enthusiast's holiday Wish List, Magnum Research has taken their most iconic handgun, the Desert Eagle, and just given it an exciting new look.
For the first time ever, the Desert Eagle .50 AE can now be purchased with an all stainless steel construction in the frame, slide, barrel, rail on the frame and an integral muzzle brake. The stainless steel models are 100% made in the USA and currently in production ready to ship to wholesalers and dealers.
"No handgun is tougher looking than our Desert Eagle." says Frank Harris, VP of Sales and Marketing. "The Desert Eagle has always been considered a bit of a beast, but now, with the rugged stainless steel frame, slide and barrel, black appointments, and the new picatinny bottom rail for accessories, it has a very distinctive new look. This high quality stainless steel model has an overpowering appearance at the gun counter and at the range, and it will be much easier to repair minor scratches than some of our custom finish models."
Also new from Magnum Research for 2015, the Desert Eagle all stainless steel model is offered in either a standard 6" barrel or with an integral muzzle brake. The integral muzzle brake is also offered on the DE50, DE44, and the DE357 6" barrel models in black. The integral muzzle brake will replace the add-on brake which Magnum Research has offered for several years. The integral muzzle brake offers significant recoil reduction, less muzzle flip and a new streamlined look. In addition, since the overall length remains the same as the standard 6" barrel model, the same holsters will fit the integral brake model. The integral muzzle brake model also means it can be offered at a lower price than the add-on muzzle brake.
The MSRP on the new all stainless steel model DE50SR is $1793.00 and for the integral muzzle brake model, DE50SRMB MSRP is $1931.00. MSRP on the new DE50IMB, DE44IMB, and DE357IMB black with integral muzzle brake is $1742.00 and $1710.00 respectively.
For more information about Magnum Research products, visit www.magnumresearch.com.
About Magnum Research Inc. (MRI)
Magnum Research Inc. (MRI) opened up a new chapter in its 25 year old history when the Minneapolis, MN based company was purchased by Kahr Arms in June 2010. Kahr Arms, based in Worcester, MA with offices and factories in Massachusetts, New York, Illinois and California is a well known producer of high quality compact handguns and maker of the world famous Thompson submachine guns commonly known as the "Tommy Gun". Magnum Research's founders, Jim Skildum and John Risdall had been involved with the company since 1979. Both men oversaw the ascent of the Desert Eagle Pistol from a concept on paper to a pop culture icon including a Playboy magazine front cover featuring Pamela Anderson showing off a Pink Desert Eagle pistol.