By Rick Ector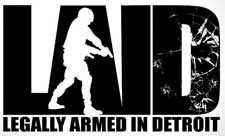 Detroit, Michigan – -(Ammoland.com)- On December 5th, 2014, the Michigan Coalition of Responsible of Responsible Gun Owners (MCRGO) – a gun rights organization that promotes the safe use and ownership of firearms through education, litigation, and legislation – selected its 2014 Gun Advocate Award Winners at their Board of Directors Meeting.
MCRGO staggered and announced the official public release of this year's award winners during last week on its Facebook organization page.
On December 8th, MCRGO announced that the winner of the "2014 Gun Advocate of the Year" is Rick Ector of Legally Armed in Detroit. Rick received the award in recognition of his activities promoting firearms safety in the home, serving as the keynote speaker at the 2014 Second Amendment March, and for frequent public & media appearances on behalf of legal gun owners.
On December 9th, MCRGO announced that the winner of the "2014 Law Enforcement Official of the Year" is Detroit Police Chief James Craig. Chief Craig received the award in recognition of his continued and outspoken advocacy in support of legal gun owners arming themselves for self defense in one of the most crime plagued cities in the United States and for overseeing a rapid drop in homicides under his watch (-18% in the past year compared to -4.4% nationally).
On December 10th, MCRGO announced that the winner of the "2014 Elected Official of the Year" is Senator Mike Green. Sen. Green received the award this year due to his efforts to accomplish substantial positive reform of the concealed weapons licensing process through SB 789 which is now in its final stages of consideration. This is the third time Sen. Green has received the award, the previous two times for sponsorship of shall-issue concealed carry and SB 59. Next month, Sen. Green will begin his final term in the Michigan Legislature.
About The Author
Rick Ector is a National Rifle Association credentialed Firearms Trainer, who provides Michigan CCW Class training in Detroit for students at his firearms school – Rick's Firearm Academy of Detroit.
Ector is a gun rights keynote speaker and a recognized expert in firearm safety and has been featured extensively in the national and local media: Associated Press, NRAnews, Gun Digest, The Politics Daily, Fox News Detroit, The Detroit News, Lock-N-Load Radio, WGPR and the UrbanShooterPodcast.