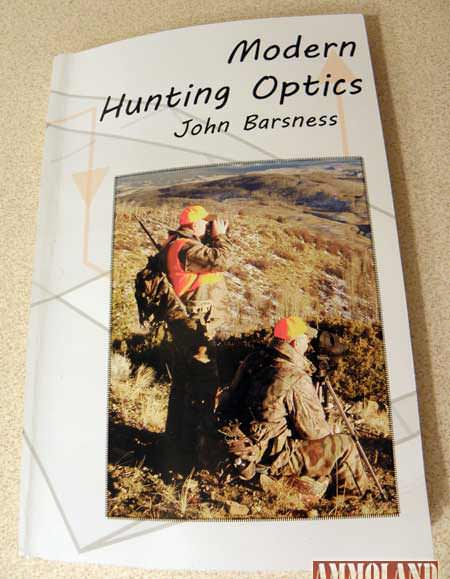 Lansing, Michigan – -(Ammoland.com)-  Hot off the presses is my new go-to hunting reference manual, Modern Hunting Optics by John Barsness.
If you are at all like I am – dependent upon some type of hunting optic on just about any firearm – this newly released 200-page book is a must have.
It covers about anything in the optics business related to hunting from scopes, range finders, spotting scopes and binoculars in a practical manner easily understood by less than technical masters. It's not that John doesn't get into numbers, but he warns the reader in advance, in the event it all becomes too cumbersome.
He explains how to test optical qualities of scopes with a simple chart, which can be printed from his website. But, if you'd rather skip the optical gymnastics, he's developed an in-depth numerical ranking system in the scope-brightness chapter and lists many of today's hunting scopes with their respective values. The results can be an eye opener, so to speak – especially, when one discovers that some glass made by non-German speaking countries is better than most optical snobs would have us believe.
In the same chapter, he debunks the conventional wisdom of 30mm scopes having better light transmission. It's a myth!
Here are more truisms presented:
A heavy reticle is much more usable in dim light than a fine one. Target shooting is one thing; hunting is another.
Good binoculars are far more important to most hunting than any riflescope, since binoculars help us find game.
A complete optical system comprised of a binocular, scope, range-finder and spotting scope costs little more than good binoculars 15-20 years ago.
Glassing early and late is best, because the air is cooler, hence clearer, without mirage.
To steady binoculars, grab the bill of your hat with them.
Spotting scopes for hunting should be limited to 40-45x, with the range of 12-40x or 15-45x just about perfect.
For hunting binoculars, a larger objective lens (the front one) not only allows more light to enter our eyes but provides a sharper image. Therefore, get an 8x or 10x binocular with at least 40mm objective lenses. He then lists some that won't break the bank, yet are quite fine in quality. The brand names may surprise you, too.
Mounting a scope correctly is critical. While some people may blame their scopes for erratic performance, he says most of the time, trouble is a result of mount rings being "farmer tight." He then explains correct torque specifications and tools required.
Fortunately, we now are able to purchase scopes for less than $500 that are extremely bright, available in high-magnification, with large-objective models sporting very visible reticles, none of which was true just 25 years ago. He also explains that 30mm scopes have the advantage of more adjustment than 1-inch tubes, because the internal erector tubes have more room to move (and, that's what is being adjusted with the turrets).
He details what targets are best to realize the potential of a given firearm and load and where to get them.
Optics and related products mentioned in the book are listed in the back, as well as an index for quick reference.
The comprehensive manual is sold exclusively through www.RiflesAndRecipes.com for $25 and includes shipping. Phone orders can be placed by calling 406-521-0273.
There's no longer an excuse for not knowing what you don't know about optics!
About Glen WunderlichCharter Member Professional Outdoor Media Association (POMA). Outdoor writer and columnist for The Argus-Press (www.argus-press.com) and blog site at www.thinkingafield.org  Member National Rifle Association (NRA), Michigan United Conservation Clubs (MUCC), member U.S. Sportsmen's Alliance (USSA), Quality Deer Management Association (QDMA), Commemorative Bucks of Michigan (CBM).