Miami, FL -(Ammoland.com)- – Mounting Solutions Plus (MSP), a manufacturer and distributor of firearm products, announces the expansion of their Syrac Ordnance AR-15 parts inventory.
New Syrac Ordnance products offered include the AR-15 Low Pro Fully Adjustable Gas Piston System and the Gen II series of Low Profile Adjustable Gas Blocks.
AR-15 Low Pro Fully Adjustable Gas Piston System
The new Syrac Ordnance Low Pro Fully Adjustable Retro Fit Gas Piston System replaces the standard AR-15 impingement gas system. It features a gas adjustment screw that is accessed from the front of the gas block with an Allen Key (included).
This gas adjustment screw allows you to adjust the amount of gas that enters the system to reduce recoil. Fine tune your rifle based on the type of ammo you use and/or if you are using a silencer.
Specs:
Firearm Type: AR15
Available Gas Length: Pistol, Carbine, Mid Length or Rifle Length
Barrel Diameter: 0.750″
Weight:

Carbine: 12.8 oz.
Mid: 13.1 oz.
Rifle: 13.1 oz.
Pistol: 13.3 oz.

Bolt Carrier: Carrier body and key are one solid piece. Skis on the back of carrier.
Gas Block Attachment Type: Clamp-on
Gas Adjustment: Front of gas block
Included:
Piston System w/ one piece carrier (key is integral to carrier)
7/64″ X 6″ L-shaped Hex Key (tool to adjust gas screw and remove/install gas block plug)
See our Syrac Ordnance AR-15 Low Pro Fully Adjustable Gas Piston System at: http://www.mountsplus.com/
Gen II Low Profile AR Gas Blocks
Syrac Ordnance Gen II Low Profile Gas Blocks are available for AR15/AR10 barrels that have a .625", .750″, or .936" gas pad diameter. Set Screw and Clamp-On models are available with either a Stainless Steel or Black Melonite finish.
Specs:
Material: 416 SS
Finish:

Stainless Steel
Black Melonite

Barrel Diameter:
Weight: 1.22 oz – 1.58 oz (depending on model)
Length: 1.00″
Attachment Type:

Set Screws
Socket Head Cap Screw

Adjustment: Front of Block
Included:
Gas Block
Set Screws or Socket Head Cap Screws
Gas Tube Roll Pins
L-Shaped Hex Keys
Installation Instructions
See our Syrac Ordnance Gas Blocks at: http://www.mountsplus.com/AR-15_Accessories/AR-15_Scope_Mounts/Syrac-Adjustable-Blocks-GenII.html
Visit Mounting Solutions Plus to see our entire selection of Syrac Ordnance products: http://www.mountsplus.com/AR-15_Accessories/AR-15_Scope_Mounts/Syrac_Ordnance.html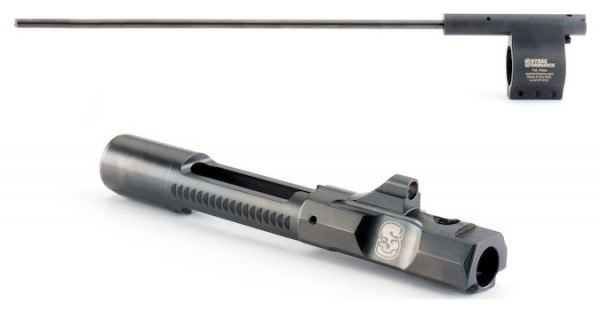 About Mounting Solutions Plus
Mounting Solutions Plus was founded in 1994 as a one product firearm accessory manufacturing company making our Muzzelite stocks.  Through dedication to providing quality merchandise and service to the firearm and shooting communities, we have since grown from a one product/one man operation to being a manufacturer and distributor of over 5000 products, with names that include Magpul, Tapco, Samson, Vortex and Nightforce.  Even with our exponential growth, we still believe that the customer is our number one priority and strive to make sure your experience with MSP exceeds your expectations.  For more information, please visit our website at www.MountsPlus.com.