Beginning January 5, 2015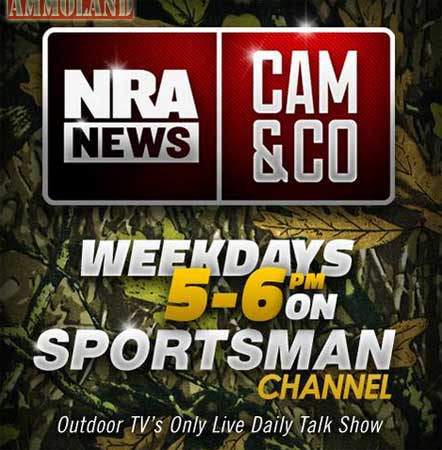 New Berlin, Wis. –-(Ammoland.com)-  Beginning January 5, Sportsman Channel's popular, news-talk, outdoor show – NRANEWS Cam & Co. – will be airing at 5 p.m. ET.
Hosted by Cam Edwards, and airing from the NRANEWS Studios in Farmville, Va., and Washington D.C., NRANEWS Cam & Co. is the first and only news-talk series on television that can authoritatively address the issues that are vital to more than 80 million American sportsmen and sportswomen. The show is celebrating 10 years of broadcasting on NRANEWS.com. The show is also simulcast on SiriusXM (Patriot and Patriot Plus) and podcasts are available on iTunes and iHeartRadio.
From segments like Curator's Corner sponsored by Bass Pro Shops, Ask Cam and Armed Citizen Files, Cam & Co. presents the news of the day in an engaging, real-time manner.
"We had a great 2014 bringing the news, stories, people and places we cover daily to our passionate, national Sportsman Channel audience," said Edwards.

"The tremendous success we've experienced with first our online show and now the TV show underscores the desire for this type of programming to meet the underserved needs for accurate, balanced and honest information about the topics, news and events that matter to America's millions of active sportsmen and sportswomen."

"There is no other daily TV show like Cam & Co. out there," said Marc Fein, executive vice president, programming and production of Sportsman Channel.

"This entertaining and informative show, highlighted by Cam's intelligent insight and perspective to vital issues, discussion with big-name guests, and special weekly and daily segments will be a great lead-in to our prime-time slate."
Host Cam Edwards, an engaging personality, insightful interviewer, sportsman and shooting enthusiast, explores the stories, people and places behind the headlines and issues that affect the lifestyle of people who love to hunt, shoot, and fish. NRANEWS Cam & Co. has secured numerous important newsmakers in 2014 to discuss topics du jour – such as hosting in-studio or via satellite guests: Lt. Col. Oliver North; Medal of Honor recipient Clinton Romesha; political commentator Glenn Beck; two-time World Series champion Jon Lester; UFC champion Matt Hughes, U.S. Navy Seal and author of "Lone Survivor," Marcus Luttrell; Olympic athletes and members of USA Shooting and many well-known Senators and Congressmen and women on both side of the aisles.
About Sportsman Channel: Launched in 2003, Sportsman Channel/Sportsman HD is a television and digital media company fully devoted to honoring a lifestyle that is celebrated by millions of Americans. A division of KSE Outdoor Group, Sportsman Channel delivers entertaining and informative programming that showcases outdoor adventure, hunting and fishing, and illustrates it through unique and authentic storytelling. Sportsman Channel embraces the attitude of "Red, Wild & Blue America" – where the American Spirit and Great Outdoors are celebrated in equal measure. Sportsman Channel reaches more than 36 million U.S. television households. Stay connected to Sportsman Channel online at thesportsmanchannel.com, Facebook, Twitter and YouTube.