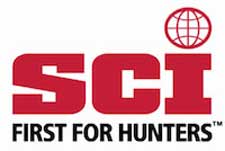 USA – –Ammoland.com)- What if you found out that there was a hunting organization that protects hunters' rights around the globe, promotes sound science-based conservation policies and has a strong humanitarian service committed to helping others in need and educating about hunting and its relationship to conservation? Would you have a guess at what the name of this organization would be? Or would you even believe that such an organization already exists?
So you may have rattled off a few guesses in your mind already, but the answer is Safari Club International.
SCI often operates as a behind-the-scenes asset to hunters everywhere, but its impact on the outdoor industry should not go unnoticed.
When local and global hunting rights were threatened, SCI and the SCI Foundation took strong stances to protect hunters' rights. Globally, SCI took the lead on the lion hunting issue. They pushed for science-based conservation and sound policies rather than emotions in deciding about hunting lions in Africa.
Locally SCI has supported and backed the Making Public Lands Public Access Act that would allow public lands to continue to be used for outdoorsman. Through the Hunter Defense Fund, SCI is taking the lead on fighting anti-hunting legislation and candidates that work to end hunting in the United States. Since 2000, SCI has spent $140 million to protect the freedom to hunt through policy advocacy, litigation and education for state legislators to ensure hunting is protected for future generations
Through the SCI Foundation, local and global efforts have been made to improve conservation, education and humanitarian services. SCI Foundation has sponsored research projects, including black bear studies in Missouri, human-wildlife conflicts in Africa and donated $350,000 towards predator-prey studies in the United States and Canada.
Since 1989, millions of meals have been served, thanks to the donation of wild game meat from SCI members. Many of the meals have been served at local food banks and the Salvation Army.
Safari Club International is and will remain a vital organization for hunters and the hunting industry. It's important to be a member of SCI to ensure that our rights as hunters stay in place for generations, that we as hunters back science-based conservation and continue to help those in need through humanitarian services.
SCI is one of the most powerful pro-hunting and pro-conservation organizations in the world, and works tirelessly on behalf of hunters. Members stay involved with state legislative and regulatory issues; with federal plans that affect management, conservation, and hunting access on public lands; as well as national legislative issues. There is strength in numbers, and SCI would not be able to produce results without supporters like you– united in the same fight. For $65, you can become an SCI Member and join like your way of life depends on it.
Funding for SCI's efforts comes primarily from their Annual Hunters' Convention, the Ultimate Hunters' Market®. Next year's 43rd Annual Hunters' Convention will have every possible hunting expedition, safari, fishing excursion, and fine firearm on display for sportsmen and women of every interest level. Six continents of adventure and wonder are under one roof at SCI's Annual Hunters' Convention. There are dozens of informative and educational seminars designed to provide attendees the opportunity to learn new hunting techniques or refine old ones on countless topics that appeal to the hunting sportsman.
The 2015 Convention runs from February 4-7 at the Mandalay Bay Resort & Convention Center in Las Vegas, Nevada. Pre-registration discounts are available now!
For more information, to join or register, visit www.showsci.org or call 1-888-746-9724.