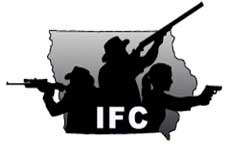 IOWA – -(Ammoland.com)- We hope this message finds you surrounded by loved ones and holiday joyfulness.
This year the Iowa Firearms Coalition is asking for some holiday generosity from our members. Of course we'd like you to become an official member or donate to the IFC, but this year we're specifically looking for volunteers to help us spread the word about our organization and the work we do.
One of the best ways we do that is through our gun show booths. Maybe you already volunteer, or you've seen us at some of the biggest gun shows in the state.
But if you haven't here's a brief overview of what volunteering at an IFC booth consists of:
Contact IFC booth coordinator about when you can volunteer
Show up to the show, get in for FREE
Socialize with visitors. Talk about guns, 2nd Amendment issues, and the IFC (who are, what we do, etc.)
Sign up anyone who wants to become a member
Work for an hour, or all weekend
Browse the gunshow
Go home feeling good knowing you helped get the message out about Iowa's most effective 2nd Amendment advocates
We want to make volunteering as easy and enjoyable as possible. Each show will have veteran volunteers working to help show you the ropes and answer any questions you or our visitors may have. You don't have to work all day, but of course the more you can do the better. Plus, as someone who is working a booth, you don't have to pay admission. This means you can help out a good cause, save a couple bucks, and browse around for potential new purchases. We think that's a pretty good way spend a few hours of your weekend.
There's a couple of gun shows coming up quickly that we'd like to get volunteers signed up for:
Gun show: Waterloo
Location: McElroy Auditorium – 250 Ansborough Ave
Date and times:
Friday Dec. 26th 5 – 9pm
Saturday Dec. 27 9am – 5pm
Sunday Dec. 28 9am – 3pm
IFC volunteer point of contact: [email protected]
Gun show: Cedar Rapids
Location: Hawkeye Downs – 4400 6th Stree Southwest
Date and times:
Friday Jan. 2nd 5 – 9pm
Saturday Jan. 3rd 9am – 5pm
Sunday Jan. 4th 9am – 3pm
IFC volunteer point of contact: [email protected]
The Iowa Firearms Coalition also runs booths at many of the guns shows in the Des Moines area. If you'd like to volunteer at one of the upcoming Des Moines shows, or host an IFC booth at a show in your region please contact IFC's gun show coordinator Donnie White – [email protected]
This is a busy time of year for the IFC so anything you can do to help is genuinely appreciated! If you can't volunteer, but want to help us fight to protect and enhance our 2nd Amendment rights in Iowa please take a moment to send a note to your legislators telling them to oppose gun control measures and honor our rights.
Finally, thank you all again for your support. We're gearing up for what will could be a momentous year in 2015. Expect more updates soon on how you can help us stand up for firearms owners in Iowa!
Fighting for our 2nd Amendment rights,
Sheena Green
Communications Director
Iowa Firearms Coalition
Iowa Firearms Coalition is an entirely volunteer, grassroots, 2nd Amendment advocacy group. Responsible for bringing uniformity to Iowa's Concealed Weapons Permitting process, IFC's members work to protect and enhance 2nd Amendment rights in Iowa. An affiliate of the National Rifle Association, the IFC actively seeks to foster and promote the shooting sports. Sign up for our email list for the latest on 2nd Amendment issues in Iowa. You can support our work by becoming a member, or making a donation.
About Iowa Firearms Coalition:
The mission of the Iowa Firearms Coalition is to be THE firearms rights organization in Iowa, representing Second Amendment concerns for all firearms owners in the state. We will staunchly defend the rights of hunters and sportsmen as well as the rights of all Iowans to defend themselves and their loved ones. We seek to partner with other like-minded organizations to increase our effectiveness in accomplishing these goals. Visit: www.iowafc.org