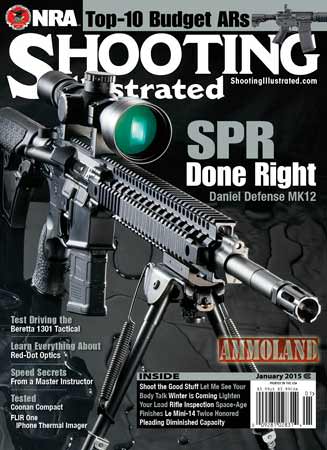 FAIRFAX, Va. –-(Ammoland.com)- The January issue of Shooting Illustrated, on newsstands now, features Daniel Defense's new take on the Special Purpose Rifle (SPR).
The Daniel Defense MK12 stays true to the SPR concept of a rifle that is both portable and accurate—a true AR for all seasons.
With an accurized 18-inch barrel, freefloat quad-rail fore-end and propriety pistol grip and stock, the MK12 has numerous custom features that make this AR-15-pattern rifle ready for anything.
If you're looking for a more basic AR-15-style rifle, we've got you covered. Shooting Illustrated's staff has assembled a list of AR-15s that sell for less than $1,000, all from major manufacturers. If you're looking for a solid, entry-level carbine, a no-nonsense rifle or an "M4gery" (semi-automatic version of the military-issue M4 carbine), we've got choices, and lots of them. Smith & Wesson, Ruger, Mossberg, Bushmaster and many other companies offer great rifles at excellent prices.
Another longarm worth further investigation is Beretta's new Model 1301 Tactical shotgun. All the speed you'd expect from racy Italian engineering combined with over 500 years of practical firearms design and manufacturing expertise combine in one scattergun ready for home defense or the 3-gun field. Shotgun Editor Kyle Wintersteen puts the latest tactical Beretta through its paces and passes judgment on this powerful 12-gauge.
Whether you choose an AR-15-pattern rifle or a shotgun for home defense, a popular optic option is a red-dot sight. There are many variations, though, and keeping them all straight can be confusing. Our handy guide differentiates between prismatic, holographic and reflex sights and gives examples of each type. If you've been considering some form of non-magnified optic for your defensive longarm, this is critical information you won't want to miss.
With all this great gear, what's the perfect way to put it all together? Taking a class that will further your shooting skills and help you make the most of your fighting rifle, shotgun or pistol is an excellent use of your time and hard-earned money. Field Editor Keith Wood details his experiences at the Rogers Shooting School, where speed is of the essence and the instructors work to "train your brain" how to make quick, efficient hits.
Look for these articles and much more in the January issue of Shooting Illustrated, The Definitive Source for the Modern Shooter, at a newsstand near you. You can also subscribe by calling (877) 223-3840.
For more information: visit ShootingIllustrated.com .