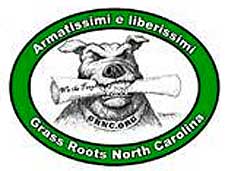 North Carolina –-(Ammoland.com)- You may recall previous GRNC Alerts that exposed "Operation Something Bruin." If you don't, you can read about the now infamous operation here and here.
In a nutshell, NC Wildlife Resource Commission (NCWRC) agents and United States Forest Service (USFS) agents formed a joint task force, ostensibly to uncover bear poaching operations.
However, the agents acted in such a way as to be credibly accused of entrapment, employing storm trooper tactics, and breaking the very laws they were purportedly acting to enforce.
Regarding the tactics used by the agents: Ms. Linda Crisp and her daughter, Michelle, describe having their homes invaded, and family heirlooms seized by agents wearing body armor and carrying fully automatic weapons. As this occurred, parents were detained outside while small children were left screaming, scared and alone inside homes.
The state and federal agents involved almost skipped away without so much as a second look. However, due to GRNC's whistle-blowing and subsequent pressure brought by supporters like you, Operation Something Bruin is now under investigation. This Monday, the House Select Committee on Regulatory Authority and Operations of the NC Wildlife Resource Committee will be placing Operation Something Bruin under the microscope, and it is hoped that the committee will get to the bottom of what appears to be an egregious abuse of power.
Perhaps a little more pressure from GRNC supporters will help make that happen.
The Wildlife Commission has 'Gone Wild'
The chairman of the committee, Rep. Roger West, said that "It appears the Wildlife Commission has gone wild and it's time to calm them down." That's one way to put it, and to help with that you are encouraged to contact Representative West, and also to attend the hearing. Below, you'll find details on the meeting, and also how you can easily send a message of encouragement to the committee chairman.
IMMEDIATE ACTION REQUIRED!
E-mail the Committee Chairman, Rep. Roger West. Use this e-mail address: [email protected]
Use the copy/paste message provided below under 'Deliver This Message.'
Attend the Select Committee Meeting this Monday.
Here are the details:
Meeting of the House Select Committee on Regulatory Authority and Operations of the NC Wildlife Resource Committee
WHEN: Monday, December 8, 2014; 10:00 AM
WHERE: Stecoah Valley Cultural Arts Center (Graham County) 121 School House Rd. Robbinsville, NC 28771
DELIVER THIS MESSAGE
Suggested Subject: "Thank You for Investigating 'Something Bruin'"
Dear Representative West:

I understand that serious allegations have been leveled against NC Wildlife Resource Commission (NCWRC) agents who participated in "Operation Something Bruin." I also understand that these allegations are atrocious in nature, and have been shown to be quite credible. I am very pleased to hear that the House Select Committee on Regulatory Authority and Operations of the NC Wildlife Resource Committee is meeting to scrutinize "Operation Something Bruin," and I am writing to encourage a vigorous examination of the facts, and that appropriate actions be taken should any of these serious allegations be proven.

Employment of storm trooper tactics against men, women and children who are innocent until proven guilty (many of whom have since been exonerated of any misconduct) is not acceptable. The entrapment of innocent, upstanding citizens is not acceptable. Law-breaking and the abuse of power by NCWRC agents is not acceptable. These, among others, are the alleged misdeeds of NCWRC agents, and if true, the committee must act to punish those involved, and to keep this sort of abuse from happening again.

Thank you for bringing this issue to the forefront. As a North Carolina voter and a supporter of the Bill of Rights, should the allegations be proven true, I must insist that the select committee hold accountable the involved agents and their superiors for the misdeeds committed against North Carolina citizens.

I will continue to monitor this issue via alerts from Grass Roots North Carolina.

Respectfully,
About:Grass Roots North Carolina is an all-volunteer organization dedicated to preserving the freedoms guaranteed us by the Bill of Rights. Our main focus is the right to keep and bear arms. GRNC was central to drafting and passing North Carolina's concealed handgun law and since that time has continued to push for improvements to gun laws. Visit:www.grnc.org