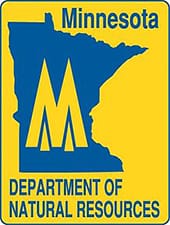 St. Paul, MN -(Ammoland.com)- Deer are fun to watch, but can quickly become a nuisance when they are looking for an easy snack near houses.
The Minnesota Department of Natural Resources offers tips to discourage deer from becoming pests.
Remove the food source. Temporarily stop feeding seed or grain to birds and clean-up spilled seed. Switch to feeding only suet during this time.
Cover bushes and low woody plants near the house with burlap, plastic snow fence, netting or heavyweight frost protection blankets, made of 2.5- to 4-ounce fabric. Tarps or clear plastic may make some plants more susceptible to sun scald and fungus so use with caution.
Protect multiple young trees with tree tubes, wrap or bud caps.
Use 6-foot high woven wire cages to protect older or individual trees.
Keep a leashed dog in the area.
Apply deer repellants. There are a variety of commercial and homemade repellants that can be used for deer, before it freezes. These need to be reapplied regularly to discourage deer. See the manufacturer's recommendations for winter effectiveness and application rates.
Install motion-activated floodlights to startle nocturnal deer in rural areas. Deer may be accustomed to these types of lights in urban areas.
Hang wind chimes or ornaments that create both motion and noise.
Install visual deterrents, such as wind socks, shiny polyester tape, flagging or scarecrows.
Use a radio in combination with lights, activated by a motion-detector for both a sight and auditory deterrent.
Implementing a few of these tips before deer become a problem is the best strategy. Check local ordinances, which may impact some of these practices. Be aware that deer become desensitized to disturbances, so it may be necessary to vary tactics.
For more information on living with deer and other wildlife species, visit www.mndnr.gov/livingwith_wildlife.
About the Minnesota Department of Natural Resources (MNDNR)
The Minnesota Department of Natural Resources is the agency of the U.S. state of Minnesota charged with conserving and managing the state's natural resources. The agency maintains areas such as state parks, state forests, recreational trails, and recreation areas as well as managing minerals, wildlife, and forestry. The agency is currently divided into sections Ecological Resources, Enforcement, Fish & Wildlife, Forestry, Lands and Minerals, Waterways, Parks and Trails, and Waters.