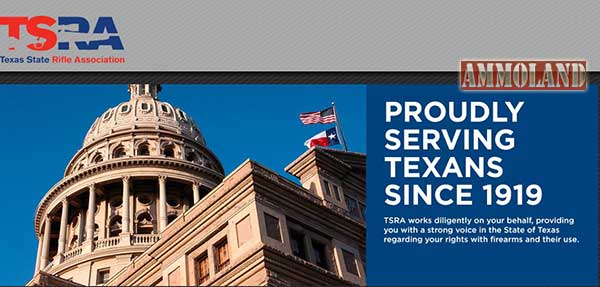 Austin, TX -(Ammoland.com)- State Representative Trent Ashby (R-Lufkin) has filed HJR 61 a constitutional amendment to protect the rights of Texans to hunt, to fish, and to harvest wildlife.
Texas State Rifle Association executive director, Doug DuBois, Jr. urges TSRA members and Texas sportsmen and women to follow and support this important legislation in the coming session. HJR 61 was authored by Rep. Ashby with input from NRA.
TSRA will be working at the Capitol to keep the measure moving throughout the legislative process. We expect to see this proposed constitutional amendment on the ballot on November 3, 2015 for all Texans to support. The language contained in HJR 61 was thoughtfully crafted with input from the Texas Parks and Wildlife Department and is expected to be meaningful legislation, carefully designed to protect the hunting and fishing heritage for many generations of Texans to follow.
HJR 61 is a welcome addition to other important legislative measures TSRA will be supporting when legislative session begins January 13, 2015. Since 1919, the Texas State Rifle Association has been protecting the lawful possession and use of firearms; supporting the shooting sports, hunter education and wildlife conservation efforts, along with providing gun safety training.
TSRA has moved to our new building: 8411 N. I-35, Austin, TX, 78753. The phone number is the same: 512-615-4200.
Check out the new websites: www.tsra.com and www.tsrapac.com.
About Texas State Rifle Association (TSRA)
Founded in 1919, the Texas State Rifle Association is the largest firearms and shooting sports organization in Texas with 40,000 members. TSRA is also the largest, award-winning state affiliate of the National Rifle Association and is sanctioned by the Civilian Marksmanship Program. As a part of its public education efforts, the association produces a full-color bimonthly publication, TSRA Sportsman, which updates members on current news, hunter education programs, shooting sports competitions, and important issues effecting their Second Amendment rights. The TSRA also hosts an annual meeting every February that features exciting fund-raising auctions, informative speakers, exhibitors, and other events.