Twisted Timber Treestands overtakes more crooked trees with their new aluminum treestand.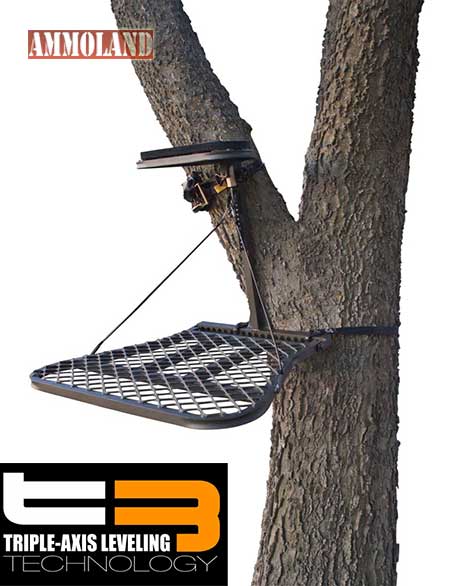 Mountain Lake, MN -(Ammoland.com)- Twisted Timber Treestands adds to its impressive line-up with the Dominator aluminum hang-on stand!
T3 Triple Axis Leveling Technology of Twisted Timber Treestands allows hunters to choose any tree to hang their stand. Now you can level your stand HORIZONTALLY, VERTICALLY and LATERALLY.
The Dominator is based on TTT popular Big Bruiser stand, with the addition of the following features.
Platform area is now increased over 20% to 30'x27" (810 sq. inches).
The seat is now almost 15% larger for more comfort on longer sits.
Weighing in at a minimal 10.25 lbs and constructed and welded with the highest grade/strongest aluminum!!
Oilite bearings make it silent, even in cold weather
T3 Triple Axis Leveling Technology allows you to hang in any tree.
How often have you found the perfect pinch point in a river bottom or fence row only to find there isn't a straight tree anywhere??
Twisted Timber's most unique feature is the T3 TRIPLE AXIS LEVELING technology. This design technology is not available on any other stand on the market. The extreme platform leveling design provides you with 7" of vertical adjustment. Twisted Timber Treestands are designed with the first and original non-screwing easy hang system. This J-Hook system also allows you to place multiple hooks in your favorite spots to allow easy adaptability in the field with horizontal rotation. The adjustable Safe-T mounting system on the base allows for lateral adjustment for off-center stand placement with rock-solid security that no other stand on the market can offer. On top of all that, Oilite Brass bushings keep your stand quiet all season.
Quiet, Sturdy, Adaptable, Versatile- Twisted Timber Treestands- "Hunt Where You Need To!"
Visit us at our new and improved website www.twistedtimbertreestands.com or www.facebook.com/TwistedTimberTreestands.
About Twisted Timber Treestands (T3)
Here at Twisted Timber Treestands we would like to take your hunting experience to the next level. We feel that we can do this for you by providing a treestand that will adapt to the situation that you are given. If you find that perfect spot in the woods, however it provides little or no opportunity to hang your existing treestand, the T3 (Twisted Timber Treestands) Triple-Axis Leveling Technology will take that experience to the next level by allowing you to choose that very spot. The Triple-Axis Technology gives you the opportunity to hang the stand where you need to be, whether the tree is crooked or straight. So, the next time you're in the woods make sure you have a Twisted Timber to make the most out of your opportunity to be as successful and comfortable no matter what the situation.