Kickin' Up the Dust Gala Scheduled for March 2015.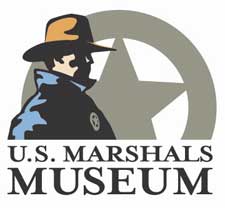 FORT SMITH, Ark. –-(Ammoland.com)- U.S. Marshals Museum officials announced details today for the U.S. Marshals Stampede: Kickin' Up the Dust fundraiser planned for March 14, 2015, to be held at the Expo Center at Kay Rodgers Park in Fort Smith AR.
National recording artists, Asleep at the Wheel from Austin, Tex., will provide main stage entertainment. Other notable entertainers for the evening include several Nashville-based artists, Heath Wright and The Hangmen and singing sensation duo Chris and Lolly. Chris Swicegood, of Chris and Lolly, boasts Fort Smith as his hometown, as do The Crumbs who will also be performing at the event.
The evening will include a recreated Old West Town with a separate casino/saloon area. Several features include Blackjack and Texas Hold'em tables, exceptional casino prizes, open bars, "Kickin' Up the Dust" cocktails, mechanical bull riding, a live auction with exclusive and premium items, and much more. A culinary chef-inspired Old West menu will also be featured.
Mary Carleton and Robert Young and Kathy and Doug Babb will serve as co-chairmen.
"This first of its kind event will allow for both our local and national communities to support the ongoing fundraising efforts of the U.S. Marshals Museum," said Mary Young.

"This event is going to be such a good time!" said Kathy Babb. "We couldn't be more pleased with the festivities planned for the evening."
There will be a special "Stampede" raffle featuring a Bass Reeves Commemorative Rifle and an exquisite piece from Newton's Jewelers. Raffle chances for the piece of jewelry may be purchased at Newton's Jewelers where it will be on display until the event. The gun will be on display at the museum office preceding the event. Chances for the raffles will also be available at the gala. Contact the museum for information on raffle ticket sales.
Individual tickets for the gala will be $200 and twilight tickets (for entry after 9 p.m.) will be $100. Tickets for the gala may be purchased at usmarshalsmuseum.com/gala or at the museum office starting Feb. 1. Exclusive seating will be available in the Corral for individual and corporate sponsors starting at $3,000 and going up to $50,000. Reserved table seating for 10 in the Arena, an area outside the Corral, is available for purchase at $2,500. There will be a VIP reception for sponsorships at the $3,000 level and above beginning at 6 p.m. with general admittance beginning at 7 p.m.
For details regarding table purchases, individual sponsorships and corporate sponsorships please refer to usmarshalsmuseum.com/gala. Visa, MasterCard and Discover will be accepted for ticket purchases and sponsorship opportunities along with other offerings at the event. All proceeds will benefit the U.S. Marshals Museum.
For more information, contact Alice Alt at the U.S. Marshals Museum at 479-709-3766 or at [email protected]
About the U.S. Marshals Museum
The future U.S. Marshals Museum will be a world-class, national museum located on the banks of the Arkansas River in Fort Smith, Arkansas. Museum plans include 50,000 square feet including three galleries, a Hall of Honor, a national education center and more. The galleries will highlight pivotal periods in U.S. history, while honoring the sacrifice and service of the men and women of the U.S. Marshals Service. For more information, visit usmarshalsmuseum.com.