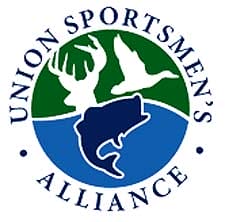 Nashville, Tn (Ammoland.com)- – Program spotlights everyday American sportsmen Sundays at 11 a.m. ET on the Sportsman Channel. The Union Sportsmen's Alliance kicks off the 7th season of its award-winning TV series, Brotherhood Outdoors, with an episode aptly titled "Muleys, Bulls and Moose, Oh My" for the diversity of big game encountered by co-hosts Daniel Lee Martin and Julie McQueen and special guest Dan Riegler, a Missouri sheet metal worker, on an memorable hunt in Idaho.
Premiering Sunday, January 4 at 11 a.m. on Sportsman Channel, the new season spotlights eight union sportsmen on once in a lifetime adventures in pursuit of a mixed bag of fins, fur and feathers.  Each week, viewers get an intimate glimpse into the lives of these blue-collar American workers—their passion for the outdoors, their dedication to their jobs and their desire to make a positive difference.
"This season of Brotherhood Outdoors is special for Julie and I because we've continued to grow as producers and hosts, and the stories we get to share about our guests just keep getting better," said co-host Daniel Lee Martin.

"We've captured a lot of exciting times in the field for season 7, and our destinations this year were nothing short of amazing. We invite viewers old and new to come along as we continue telling stories of real, hardworking union members who love the outdoors as we take them on incredible hunting and fishing adventures."
From Idaho, Brotherhood Outdoors travels way down south to Georgia for a spring gobbler hunt that Mother Nature does her best to spoil before heading back up north to the isolated beauty and bountiful fish of Labrador, Canada.   As the season continues, the series will take viewers across the map to Texas, Montana, Alabama, Arizona and Kansas to chase whitetail, hogs, mule deer and more.
"We are extremely proud of our members and their commitment to the great outdoors," said USA Executive Director, Fred Myers.  "Brotherhood Outdoors allows us to honor some of the hardest working men and women in the country as we share their inspiring stories through unforgettable hunting and fishing trips, and we know viewers are going to love the upcoming season."
Presented by Bank of Labor, Brotherhood Outdoors is also sponsored by the following unions, contractors and corporate partners: Buck Knives, Carhartt, Burris/Steiner, International Association of Machinists and Aerospace Workers, International Association of Sheet Metal, Air, Rail and Transportation Workers, International Brotherhood of Boilermakers, International Brotherhood of Electrical Workers, National Electrical Contractors Association, and United Association/International Training Fund
For more information about Brotherhood Outdoors, the Union Sportsmen's Alliance or Sportsman Channel, visit www.BrotherhoodOutdoors.tv and www.facebook.com/brotherhoodoutdoorstv.
About the Union Sportsmen's Alliance: The Union Sportsmen's Alliance (USA) is a union-dedicated, 501(c)(3) nonprofit organization, whose members hunt, fish, shoot and volunteer their skills for conservation. The USA is uniting the union community through conservation to preserve North America's outdoor heritage. For more information, visit www.unionsportsmen.org or www.facebook.com/unionsportsmen
About Sportsman Channel: Launched in 2003, Sportsman Channel/Sportsman HD is a television and digital media company fully devoted to honoring a lifestyle that is celebrated by millions of Americans. A division of KSE Outdoor Group, Sportsman Channel delivers entertaining and informative programming that showcases outdoor adventure, hunting and fishing, and illustrates it through unique and authentic storytelling. Sportsman Channel embraces the attitude of "Red, Wild & Blue America" – where the American Spirit and Great Outdoors are celebrated in equal measure. Sportsman Channel reaches more than 36 million U.S. television households. Stay connected to Sportsman Channel online at thesportsmanchannel.com, Facebook, Twitter and YouTube.