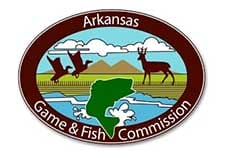 Yellville, AR -(Ammoland.com)- Late last month, several youths participated in a special youth deer camp at the Fred Berry Conservation Education Center on Crooked Creek, located near Yellville.
The Youth Deer Hunt and Camp program, developed by the Arkansas Game and Fish Commission's Education Division, offered several youths a special deer camp experience. The program began with an orientation on Oct. 14 and included a hunter education course on Oct. 25, a day at the range on Nov. 15, and culminated with a three day deer hunt and camp Nov. 21-23 at the education center.
Six 12 and 13-year-olds were drawn to participate in the program and five of the hunters harvested their first deer. A total of 8 deer were harvested. Each hunter was accompanied by a chaperone and an AGFC employee. Scheduled before and after the hunts, the campers and their chaperones attended classes in deer biology and management, hunting techniques and tips, hunter equipment and safety and a hunting regulations overview.
An all venison dinner was prepared showcasing many different recipes that the attendees would be able to cook at home. All of the deer harvested were prepared for processing and were taken home by each respective hunter.
The program was a group effort between the AGFC Education, Enforcement and Wildlife Management divisions.
About The Arkansas Game and Fish Commission (AGFC)
The Arkansas Game and Fish Commission plays an important role in keeping The Natural State true to its name. During the last 100 years, the agency has overseen the protection, conservation and preservation of various species of fish and wildlife in Arkansas. This is done through habitat management, fish stocking, hunting and fishing regulations, and a host of other programs.