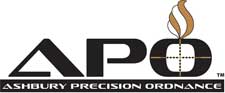 Ruckersville, VA -(Ammoland.com)- Ashbury International Group, Inc. announces its distribution of an innovative Bluetooth module (dongle) that attaches to a variety of Vectronix laser range finders and multi-function sensors for wireless data transmission.
This Made-in-the-USA module manufactured by Down Range Systems (DRS) is specifically designed to plug into Vectronix hand-held sensors like VECTOR IV, 21 and PLRF 10C/15C with digital data ports thereby eliminating the need for cables. The DRS Bluetooth short range low power wireless module has a battery life of 30 hours, is water resistant, enclosed in a ruggedized composite housing and comes with a 1 year warranty.
These Bluetooth modules are available with Lemo type connectors for VECTOR IV/PLRF's and Fischer type connectors for VECTOR 21 binocular laser range finders. This gives the immensely popular Vectronix laser range finders now in the field a true "fly away" capability with no wires.
"The DRS Bluetooth Module should be very well received by government, military users and long range precision rifle shooters that use VECTOR and PLRF laser range finders in conjunction with ruggedized PDA's," said Matthew Peterson, Ashbury Product Development Coordinator. "We're seeing increased use of Vectronix sensors as front end data collectors interfaced with ruggedized PDA's for Geographical Information Systems (GIS), terrain mapping, and especially ballistic targeting with leading software like Field Firing Solutions."
Ashbury has now integrated the DRS's Bluetooth Module into its new TALON Wireless Ballistic Targeting System that receives simultaneous Bluetooth data inputs for met data from a Kestrel handheld weather station as well as distance, azimuth and inclination angle data from Vectronix laser range finders and multi-function sensors. The TALON platform is versatile and can be configured with multiple Vectronix handheld sensors, FFS Delta-V or Tactical ballistic software, and the Trimble NOMAD or Juno T41 PDA's.
Ashbury will be displaying and demonstrating the DRS Bluetooth Modules throughout the 2015 SHOT Show in booth #31407 in the Tactical/Law Enforcement Section. They will also be conducting live fire demonstrations at Industry Day at the Range Upper Rifle Range the day before the exhibition opens with new the APO SPR-308K1 Special Applications Rifle, the F/TR Patriot in .308Win and ASW338K1 in .338 Lapua Magnum.
Distribution of this new innovative product will be done through Ashbury Precision Ordnance Mfg, a division of Ashbury International Group, Inc. For more information on this product and long range Riflesports equipment, please visit the Ashbury Precision Ordnance Mfg website, contact our customer service department or shop the APO online store, The Armory.
About Ashbury International Group Inc.
Ashbury International Group Inc. is a central Virginia USA based company, having more than 19 years of international experience as a prime contractor to government agencies, military, and special operations forces as well as manufacturer of commercial shooting sports equipment. The company provides logistics, engineering, training, ordnance manufacturing, systems integration and emergency preparedness products and services.
About Ashbury Precision Ordnance Mfg. (APO)
Ashbury Precision Ordnance Mfg. (APO), a division of the Ashbury International Group Inc. is a BATFE licensed 07/11/SOT firearms manufacturer. APO manufactures the patented SABER-FORSST modular rifle chassis system for small, medium and large caliber bolt action factory and custom rifles. APO also manufactures custom tactical, and multi-sport precision rifles in calibers from .223, .to .375CT. APO's Custom Shop offers complete special order custom rifle and pistol builds for discriminating customers. Additionally, APO manufactures high quality rugged electro-optical weapon mounts, and TACT3 tactical field tripods. APO also distributes a wide range of long range shooting accessories to include Field Firing Solutions (FFS) ballistic software, Long Range Accuracy Bipods, Snipers Field Tool Kits and Vectronix laser range finders, thermal imagers and night vision devices.
About The Rapid Product Development Center (RPDC)
The Rapid Product Development Center (RPDC) provides engineering design and prototyping services. The engineering services group is Solidworks CAD based with Cosmos FEA and FeatureCam CAD/CAM machine programming software, 3D Printer-Fused Deposition Modeling (FDM) capable, a modern CNC precision machining shop and an experienced, well trained staff.