Right and Left Handed 1911's
Las Vegas, NV -(Ammoland.com)- Those who know Cabot Guns know that we craft what are the most precise firearms in the world, the Cabot C-Class.
The level of precision to which they are created is unlike anything the gun industry has ever seen. The C-Class Cabot 1911s are coveted, collector grade guns that are, by any measurable standard, simply the finest.
While rock stars, royalty, heads-of-state and other members of the "private jet" club covet these pieces of technological art, the Custom 1911 buyer had to watch from afar. But no more.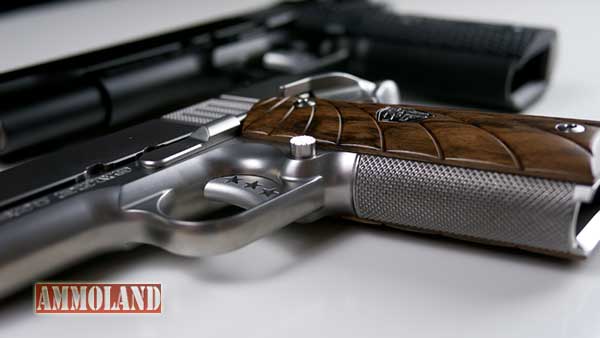 Enter the Cabot S-Class. 
The new S-Class Cabot 1911 line will feature two guns: the S-100, a government length 1911 and the S-103, a full cycle commander length gun.
Made in the USA – and with a frame and slide crafted from a solid block of 416 American stainless steel – the S100 represents a commitment to American quality. Cabot's quality obsessed team decided to go hands-on with each pistol in the S Class lineup. Each pistol's frame and slide receive a personal hand fitting in the final stages of assembly, ensuring that your S class is unlike any other. You'll still find the finishing touches you've come to expect from a Cabot Gun and a few more – a barrel beautifully crowned flush to the bushing, chamfered slide pin stop hole, magwell beveled to enable faster and more consistent magazine swaps, and Cabot's signature star engraved at the end of the full-length guide rod. Cabot's perfection-obsessed team cut no corners in our creation of affordable luxury.
The S-Class also debuts a front strap and main spring housing embellished with dramatic Rhombus Cut 24lpi checkering. The unique diagonal cut of the checking delivers improved grip with comfortable feel in your hand. The rear of the pistol carries Cabot's signature Trinity Stripes and checkered cocking serrations, providing for aesthetically pleasing functionality with every rack of the slide. Great care was taken to create the proprietary grips, which feature Fibonacci scallops. This formula that occurs in nature in everything from nautilus shells to DNA strands was chosen not only for its beauty, but also for function. The shooter's grip is increased as the gun goes farther into recoil. A true blend of form and function.
The S-Class Cabot not only brings our uncompromising standards to the custom 1911 market, but it also serves a client that is largely ignored in the 1911 world – the left handed shooter. Both the S100 and S103 are available for order in limtied quantities in a true left-handed configuration.
Many companies may ignore a potential customer that not only makes up but 10% of the population but is used to – and largely accepts – being disregarded. Not at Cabot.
About Cabot Guns
Situated in western Pennsylvania, Cabot Guns produces aerospace quality 1911 style pistols that are 100 percent American-made by craftsmen and nano-technologists obsessed with feel, precision and purity. Cabot Guns is located at 300 N. Pike Road, Sarver, PA.
Learn more about Cabot Guns at www.cabotguns.com.