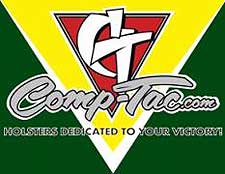 Houston, TX -(Ammoland.com)- To better serve customers, Comp-Tac Victory Gear, a leading manufacturer of competition and concealed carry holsters and accessories, has launched a new and improved Comp-Tac.com website.
Comp-Tac has been proudly serving both retail and dealer customers online for 15 years. The launch of the new website allows Comp-Tac to improve the overall customer experience.
Important features of the new Comp-Tac.com include:
Improved navigation structure allowing customers to locate holsters by function such as concealed carry or competition.
Additional navigation fields to display all of Comp-Tac's accessories such as Light Holders and Pepper Spray products.
Expanded search functionality.
New side bar navigation allowing customers to narrow by firearm make and model.
Improved images for better visual representation of product.
Cleaner, simpler, more efficient customer check out process.
New Website Tools including wish list creation, tell a friend and online reviews.
"Developing the new Comp-Tac.com has been an exciting process and we are thrilled with the end result. Our customers have asked for a better, easier way to learn about and order our products and we have delivered. One of Comp-Tac's founding principles is giving the customer the best customer service possible and our new website does just that," explains Gordon Carrell, General Manager of Comp-Tac.
With the launch of the new website, Comp-Tac has focused on improving many of the existing functions including key elements of the customer's online experience at Comp-Tac.com. Chief among these improvements is the "my account" function. To take advantage of these new features returning Comp-Tac customers will simply need to re-create their account when logging onto the new site. Returning Law Enforcement, Military and Dealer Customers will need to re-set their passwords upon logging in for the first time.
"Comp-Tac has long provided concealed carry and competition holsters and accessories for customers all over the world. Now, Comp-Tac can provide those same great products in a way that is more accessible to current as well as new customers. First time holster buyers can visit the site and immediately learn about the different options for carrying concealed, as well as the other products Comp-Tac offers to fit their needs. Providing information is a key part of our mission, the new website does just that," commented Randi Rogers Sales and Marketing Manager.
Comp-Tac Victory Gear invites consumers to visit the new site and explore its features. In keeping with Comp-Tac's commitment to customer service, the new Comp-Tac.com will be continuously updated and improved to provide the most effective and efficient online customer experience possible.
For more information on Team Comp-Tac and the full line of Comp-Tac Victory Gear holsters and accessories, visit www.Comp-Tac.com, like Comp-Tac on Facebook, or follow @CompTac on Twitter.
About Comp-Tac Victory Gear
In 2000 I started Comp-Tac with the intention of designing holsters of the highest quality for defensive and competition shooting. I started off with the Locking Paddle and over the years have designed over 30 products with 92,000 possible variations to accommodate your lifestyle and needs. Comp-Tac has grown from a one man shop to a business with dozens of employees. What started in my garage has grown into a drafting room, production line, customer service department, shipping department, and leather shop. Thanks to the great support of our customers and through their input we continue to grow and refine our product line. Whether you are competing for fun or in the fight for your life, no company offers more holsters dedicated to your victory.