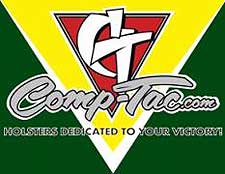 Houston, TX -(Ammoland.com)- When it comes to a holster for use in competition or for carrying concealed Comp-Tac Victory Gear remains the top choice among IDPA members, according to the results of the equipment survey conducted by the International Defensive Pistol Association during their 2014 National Championship this past September.
This is the third year in a row that Comp-Tac was named the number one holster brand in both categories. The survey found that among the 38 holster brands used in the competition, almost half (43.70%) of the 341 respondents shot the match using a holster manufactured by Comp-Tac Victory Gear, a leading maker of holsters for the personal defense and competition market.
When it comes to the preferred choice in a concealed carry holster, Comp-Tac was once again the clear favorite among the 57 brands mentioned with 25.36% of respondents indicating they rely on Comp-Tac holsters for their CCW needs.
In addition to being named the number one brand of competition and concealed carry holster for the third year in a row, results from the 2014 IDPA National Championship equipment survey show that Comp-Tac continued to gain market share over its competitors with this influential group of top shooters.
"The competition market is one of the key parts of the Comp-Tac business. These shooters are instrumental in helping Comp-Tac make great holsters providing a constant source of feedback for improvements and innovations," explained Gordon Carrell, General Manager and Comp-Tac Team member.

"To be voted the top holster brand in both competition and concealed carry segments at the Nationals is a huge honor and we are thankful to all the customers who help us make our products the best on the market."
The 2014 IDPA National Championship equipment survey was conducted among the 355 competitors with 341 indicating a competition holster preference and 209 indicating a concealed carry holster preference.
To see the Comp-Tac line of competition and concealed carry holsters during the upcoming SHOT Show, visit Comp-Tac on Monday, January 19 at the NSSF Media Day At The Range event or the Comp-Tac booth (#2051) Tuesday through Friday, January 20-23, of SHOT Show.
For more information on Comp-Tac's support of the shooting sports, or on the full line of Comp-Tac Victory Gear holsters and accessories, visit www.Comp-Tac.com. You can also keep up with the latest news from Comp-Tac by liking Comp-Tac on Facebook at www.facebook.com/CompTac or following @CompTac on Twitter.
About Comp-Tac Victory Gear
In 2000 I started Comp-Tac with the intention of designing holsters of the highest quality for defensive and competition shooting. I started off with the Locking Paddle and over the years have designed over 30 products with 92,000 possible variations to accommodate your lifestyle and needs. Comp-Tac has grown from a one man shop to a business with dozens of employees. What started in my garage has grown into a drafting room, production line, customer service department, shipping department, and leather shop. Thanks to the great support of our customers and through their input we continue to grow and refine our product line. Whether you are competing for fun or in the fight for your life, no company offers more holsters dedicated to your victory.