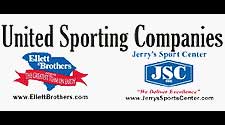 Chapin, SC -(Ammoland.com)- Ellett Brothers has been named Distributor of the Year by DNZ Products for an exceptional year in handling their product line during the 2014 campaign.
With over 100 years machining experience, DNZ Products creates innovative scope mounts and quality mounting accessories at Certified Machining, Inc. located in Sanford, North Carolina.
About United Sporting Companies (USC)
United Sporting Companies (USC) is a leading nationwide distributor of hunting, outdoor and marine products. The company operates through two subsidiaries, Ellett Brothers and Jerry's Sport Center which were founded in 1933 and 1949, respectively. Providing the Industry's largest product selection of over 85,000 SKUs in combination with the endless support of the most knowledgeable sales force in the country, USC proudly and efficiently serves over 30,000 independent retail customers across all 50 states through sales offices and distribution centers in Chapin, SC, Newberry, SC, Pittston, PA, Harrisburg, PA, Downingtown, PA, Dayton, OH, Spring Hill, KS, Dallas, TX, Reno, NV and Sacramento, CA.