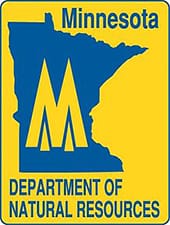 Minnesota -(Ammoland.com)- Minnesota Department of Natural Resources Commissioner Tom Landwehr announced two high-level appointments today.
Sarah Strommen, acting deputy director at the Minnesota Board of Water and Soil Resources (BWSR), was appointed DNR assistant commissioner. Luke Skinner, deputy director for the DNR's Parks and Trails Division, was promoted to director of the Ecological and Water Resources Division, replacing Steve Hirsch who retired.
"I am delighted Sarah and Luke have agreed to take these positions," Landwehr said. "We have developed a very strong senior management team, and the combination of experience and skills Sarah and Luke bring will serve Minnesotans very well."
As assistant commissioner, Strommen will oversee two divisions for the commissioner's office, Parks and Trails and Fish and Wildlife, and the agency's strategic direction with land management and the Legacy amendment. She fills the position vacated by Assistant Commissioner Mike Carroll, who retires Jan. 13.
Strommen brings 20 years of experience integrating the field of biological science with citizen education and engagement and with public policy-making. She holds a bachelor's degree from Grinnell College, where she majored in biology and Latin American studies, and a master's degree in environmental management from Duke University.
She previously served as policy director for Friends of the Boundary Waters Wilderness and as associate director of the Minnesota Land Trust. She joined the state of Minnesota in 2012 as an assistant director at BWSR before becoming acting deputy director.
After serving several terms on the Ramsey City Council, Strommen was elected mayor in 2012.
Skinner has 24 years of DNR experience in roles ranging from natural resources specialist to supervisor. Most of his DNR career has been spent in the Ecological and Water Resources Division working in the invasive species program, including six years as unit supervisor.
For the last 2 ½ years, he has been deputy director of the Parks and Trails Division, managing strategic direction, operations, policy, and a $110 million annual budget. In his new position, Skinner will oversee land use and water permitting programs; environmental inventories and monitoring programs; environmental review and dam safety; the nongame wildlife, invasive species and Scientific and Natural Areas programs; and several other units.
Skinner earned a bachelor's degree in biology from the University of Minnesota-Duluth and a doctorate in entomology from the University of Minnesota, where he has been an adjunct assistant professor since 2006.
Strommen begins her DNR job the first week of February. Skinner begins his new position Jan. 14.