A Modern-Engineered, Classically-Styled Hunting Rifle.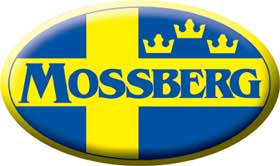 North Haven, CT –-(Ammoland.com)- For over 95 years, America's oldest family-owned firearms manufacturer, O.F. Mossberg & Sons, Inc., has delivered well-designed, value-packed shotguns, as well as centerfire and rimfire rifle designs to the marketplace.
Now, Mossberg is pleased to announce the birth of a new classic – the Mossberg Patriot bolt-action rifle.
This series of traditionally-styled rifles combines the most desirable features from previous Mossberg centerfire rifles in a re-engineered bolt-action platform, featuring a streamlined bolt handle, redesigned bolt knob and hunter-inspired, classic-style stocks. With over 60 models in 11 of the most popular calibers, including the latest in big game calibers, the 375 Ruger; Bantam and Super Bantam youth versions; and Vortex Optics-scoped combos, there is a modern-day Patriot to suit every hunter's taste.
At the heart of the Patriot series is Mossberg's proven twin-lug, push-feed machined-steel action which is fed from a lightweight polymer, flush box magazine with 4 or 5-round total capacity (magnum and standard calibers respectively). The button-rifled, standard contour, free-floating 22-inch barrels (20-inch barrels on Bantam/Super Bantam) are constructed of carbon steel, feature straight-edge fluting (375 Ruger versions have non-fluted barrels) and recessed crowns. Metal finishes include a choice of Matte Blue or Mossberg's proprietary, Marinecote™ protective finish. Every Patriot rifle also features Mossberg's patented LBA™ (Lightning Bolt Action) Adjustable Trigger System for consistent shot placement and is user-adjustable from 2 to 7 pounds. Other standard features include distinctive, spiral-fluted bolts; receiver-mounted, weaver-style scope bases; adjustable, fiber optic sights (select calibers); and sling swivel studs.
The Patriot series features well-designed stocks with the graceful lines of a classic hunting rifle and the modern appeal of textured stippling on the grip and the three surface areas of the forend. The traditional stock design features a straight comb with rounded edges and raised cheekpiece for greater comfort and reduced recoil. A polymer block insert with integral magazine well provides a simple, but effective bedding platform. Over 60 models are available, housed in walnut, durable grey laminate, black synthetic or camo-finished synthetic stock options with a traditional, black rubber recoil pad. To complement the stock redesign and improve handling, Mossberg has streamlined the bolt handle, providing additional clearance for gloved hands, and added an aggressively-checkered bolt knob. And as a first for Mossberg, bolt-action rifles chambered in the new hard-hitting 375 Ruger, which feature cross-bolts in the classic, big game laminate stock versions.
Available calibers: 22-250 Rem, 243 Win, 7mm-08, 308 Win, 25-06 Rem, 270 Win, 30-06 Sprg, 7mm Rem Mag, 300 Win Mag, 338 Win Mag and 375 Ruger.
With an impressive initial offering of 63 models, the Patriot line-up includes Mossberg's innovative Super Bantam with adjustable length of pull (LOP) system and compact Bantam rifles ideal for young hunters or adults who prefer a shorter LOP. These youth offerings are available with walnut, black synthetic or camo-covered synthetic stocks. For the hardcore whitetail hunter, choose one of the ready-to-take afield Mossy Oak® Deer Thug combos, also available in our Super Bantam platform. These rifles feature Mossy Oak Break-Up Infinity®-covered stock, versatile 3-9x40mm riflescope and handy sling. Mossberg donates a portion of the proceeds from sales of Deer Thug rifles to Mossy Oak in support of the Outdoor Recreation Heritage Fund (ORHF). If you prefer a more traditional, field-ready gun with black synthetic or walnut stock, then select from our scoped combos which include a factory-mounted, 3-9x40mm riflescope or step up to a combo featuring Vortex Optics Crossfire® II riflescope with Dead-Hold® BDC reticle. The Patriot is also available in our tactical Night Train™ package which includes a variable, long-range riflescope and bipod; now available in 300 Win Mag.
MSRP: Patriot rifles, Scoped Combos, Deer Thug Scoped Combos, Bantam and Super Bantam $386 – $584; Patriot Vortex Optics Scoped Combos: $552; and Patriot Night Train Tactical Rifles: $634 – $811.
The Mossberg Patriot is the sum of all rifles that came before it and you should be one of the first to own this new American classic. For a complete list of available models, visit www.mossberg.com.
About O.F. Mossberg & Sons, Inc.
Founded in 1919, O.F. Mossberg & Sons, Inc. is the oldest family-owned firearms manufacturer in America, and is the largest pump-action shotgun manufacturer in the world. Leading the way with over 100 design and utility patents to its credit, and standing as the first ISO 9001 Certified long-gun manufacturer, Mossberg is considered to be one of the most innovative firearms manufacturers in U.S. History. For more information on commercial, special purpose, law enforcement and military shotguns, rifles and accessories, please visit their website at www.mossberg.com.