AR-Compatible Bolt-Action with Multi-Rail Accessory System.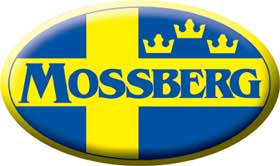 North Haven, CT –-(Ammoland.com)- Mossberg listened when our customers said that our AR-compatible MVP Series was the ideal platform for a scout rifle.
For 2015, Mossberg is pleased to announce the MVP Scout rifle chambered in 7.62mm NATO (308 Win).
The new MVP Scout features an extended top rail and two side-mounted short rails for ease of adding optics and accessories; an optional Scoped Combo version of the MVP Scout is also offered. These highly-innovative carbine rifles feature Mossberg's patented Dual Push bolt and patented Dual Latch designs that accept and reliably-feed from both M1A/M14 and AR10-style magazines, a first for bolt-actions!
The general-purpose Scout rifle was defined by the legendary Col. Jeff Cooper, and Mossberg has combined those key features in their MVP Scout 7.62mm NATO (308 Win) bolt-action rifle. This highly-versatile, short-action rifle has an 11-inch receiver/barrel-mounted Picatinny rail which provides a solid base for standard or long-eye relief optics. When used properly, with both eyes open, a low-power and forward-mounted scope provides the user with an unobstructed field-of-view as with open sights. The Picatinny rail and forward-mounted optic provide greater clearance in the ejection port area for quicker reloads. For sight system versatility, an integrated, rail-mounted, Ghost Ring rear sight is paired with a barrel-mounted, fiber optic front sight. Two handy Picatinny side rails, located near the front of the forend, provide for easy-attachment of tactical lights, laser or accessories.
Chambered in 7.62mm NATO (308 Win), the MVP Scout features a compact 16 ¼-inch medium bull, carbon steel button-rifled, threaded barrel with an A2-style suppressor, with a 1:10 twist rate to optimize bullet performance. A protective thread cap is provided. Completing the Scout package is an adjustable, rifle sling.
Convenient, scoped combo packages are also available, featuring a UTG AccuShot 1-4x28mm scope with extended eye relief (6 to 9 inches). The AccuShot optic also has the patented EZ-TAP Illumination Enhancing System with red/green Dual-Color Mode and Multi-Color Mode (36 colors) to accommodate all weather and light conditions. Low-profile, lever-lock UTG rings and flip-open lens caps are included.
Adding to the virtues of this ruggedly-built, all-purpose platform is Mossberg's patented Lightning Bolt Action (LBA) Trigger System that delivers a crisp, creep-free trigger pull and is user-adjustable from 3 to 7 pounds; a classic stock design with stippling on the pistol grip and forend, finished in a matte black, coarse texture; exposed metalwork features a matte blue finish; front and rear sling swivel studs; spiral-fluted bolt; oversized bolt knob; and 10-round capacity magazine. And because of its patented designs, the MVP Scout can be used with both M1A/M14 and AR10-style aftermarket magazines.
Combining the classic features of a Scout rifle, as described by Col. Jeff Cooper, with the breakthrough design of Mossberg's MVP Series bolt-action rifles elevates the definition of Scout rifle to a new level.
To see more information on the MVP Scout as well as the complete line of MVP bolt-action rifles, please visit our website at www.Mossberg.com or your local Mossberg dealer today.
About O.F. Mossberg & Sons, Inc.
Founded in 1919, O.F. Mossberg & Sons, Inc. is the oldest family-owned firearms manufacturer in America, and is the largest pump-action shotgun manufacturer in the world. Leading the way with over 100 design and utility patents to its credit, and standing as the first ISO 9001 Certified long-gun manufacturer, Mossberg is considered to be one of the most innovative firearms manufacturers in U.S. History. For more information on commercial, special purpose, law enforcement and military shotguns, rifles and accessories, please visit their website at www.mossberg.com.