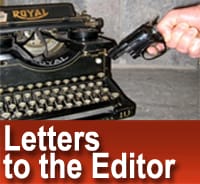 Wayne, NJ –-(Ammoland.com)- The Jan. 27 letter, "Resisting gun control is for the weak-minded," by Bill Thompson ( tiny.cc/sm59sx ) , is full of absurdities.
The letter writer failed to do any research or conduct any thought process in his anti-gun, anti-Second Amendment zeal to have national background checks on firearms.
There are already FBI background checks. Nothing further needs to be done. He then goes on and says background checks on everything else, including boarding a plane, buying a home, buying a car, has always been an integral part of our government system of protection. .
Really? No, it hasn't. It's always been about collecting taxes and fees. Government does nothing altruistically.
Governments, in the 20th century alone, killed over 200 million innocent people because of gun control and confiscation.
All one has to do is look at the 1938 Nazi Weapons law to see how background checks were used to confiscate all firearms from the people and then caused the deaths of 12 million, and compare them to New Jersey gun control laws taken verbatim from the Nazi law.
The 1938 Nazi Weapons law targeted ordinary citizen gun owners, manufacturers, and dealers, rather than criminals; required any private person to prove himself fine/"reliable" before being "allowed" to own a firearm; presumed that gun ownership was a government-granted privilege, not a right; gave the government unrestricted power to decide what kinds of firearms could or could not be owned by citizens; defined "hunting weapons" as a special class; forced all firearms manufacturers and dealers to obtain a government license; and required all firearms dealers to record all sales and to turn over those records if the business closes.
The Nazi law also allowed for police inspection of records; required all firearms to bear a serial number and maker's or dealer's mark; required all gun owners to identify where all firearms were in the house to allow for police or government officers to enter home and go right to the location of the firearms.
Current New Jersey legislation (A-3676) would require police/government inspection of gun owner's residence and where firearms will be located.
Bruce Eden
Lifetime Member
Jews for the Preservation of Firearms Ownership