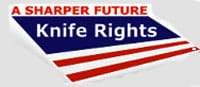 Gilbert, AZ –-(Ammoland.com)- New York Assemblyman Dan Quart from Manhattan has filed a bill to "fix" New York state's gravity knife statute which has been misapplied and abused by New York City to prosecute an estimated 60,000 citizens over the past 10 years, with the rate doubling in recent years.
Last year Mr. Quart's bill passed the Assembly, but failed to be voted upon in the Senate. With significant changes in the Senate after the election, combined with additional pressure as a result of the recent Village Voice article that exposed the extraordinarily wide impact of New York City's abuse of the existing law, along with widespread coverage of Knife Rights' continuing lawsuit, opportunity for passage this year is improved.
Knife Rights is working to move the bill through both houses this year.
The bill, which has yet to be assigned a number, would require that prosecutors prove "unlawful intent" in order for someone to be prosecuted for possessing a "gravity knife." That would significantly narrow the opportunity for New York City to abuse citizens carrying common locking-blade pocket knives. This is certainly not a complete solution, but it would be a big step in the right direction. After six years of passing pro-knife bills in 11 states, Knife Rights knows that many times complete success is a multi-year, multi-step endeavor.
Knife Rights Director of Legislative Affairs, Todd Rathner, has been working very closely with Assemblyman Quart's staff to assist in the introduction and passage of this bill. As soon as we have a bill number we will let you know so that you may contact legislators to express your support.
About:
Knife Rights (www.KnifeRights.org) is America's Grassroots Knife Owners Organization, working towards a Sharper Future for all knife owners. Knife Rights is dedicated to providing knife owners an effective voice in public policy. Become a Knife Rights member and make a contribution to support the fight for your knife rights. Visit www.kniferights.org