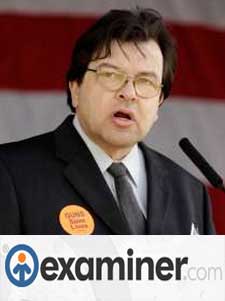 USA – -(Ammoland.com)- A Pennsylvania "lawmaker" has once more demonstrated why mentally-challenged "progressives" (but I repeat myself) should never be trusted with power and responsibility.
Representative Thaddeus Kirkland, a Democrat, naturally, plans on introducing a bill that "prohibits the use of human silhouette targets at shooting ranges across the Commonwealth…"
Naturally, he plans to include an exception for the "Only Ones." Whether he intends to also mandate targets they use be accompanied with the words "Hands Up, Don't Shoot!" is left unstated.
"Rather than perpetuate violence by continuing to allow individuals to practice their target shooting by shooting at human silhouette targets at shooting ranges, my legislation will prohibit the use of targets that depict human silhouettes at shooting ranges across the Commonwealth," Kirkland declares, as if using the word "shooting" four times in one sentence justifies subjecting everybody else to his heavy-handed foolishness. "Instead, silhouette targets could include, but are not limited to the following: white-tailed deer, black bear, wild turkey, and elk." [because the second amendment is all about hunting..right?]
We'll just see what PETA has to say about that. Setting collectivist stooges on each other can be great fun to watch. And as an aside, Kirkland's presuming to "allow" implies there's an "obey me or be destroyed" mandate he's willing to have armed enforcers kill citizens over.
We'll have to see about that, too.
Read the entire article from David Codrea: http://tiny.cc/acoisx