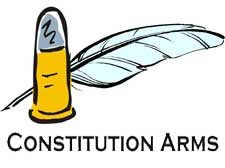 USA – -(Ammoland.com)- Further progress has been made since our May 2014 update.
The current part count, exclusive of optional accessories, stands at 69 custom machined parts; and stock pins, screws and springs.
A total of 43 out of the 69 are on hand in finished production quantities. A finish coating design change was made. Now, only the barrel, frame and receiver will be Cerakoted in Shimmer Gold (H-153Q). The other externally visible metals parts will be nickel plated stainless.
We have baselined the receiver, latch, frame, trigger bars and safety bars and are waiting on delivery of these parts. The longest lead time and outstanding parts remaining are those that will be plastic injection molded. These will be baselined shortly so that tooling production can be started.
We current are testing different barrel rifling twist rates at various lengths to determine the optimum combination for maximum muzzle velocity and minimized keyholing while keeping the barrel as short as possible. The ejector rod throw length was increased to make extraction of spent casings easier by allowing finger nail access behind the rim.
We have succeeded in sourcing all parts production with US domestic companies. Raw materials are either domestically produced or from a DFARS complaint country. Attorney review opined this meets the FTC "all or substantially all" definition of "Made in the US" claims.
We have updated the Palm Pistol (www.palmpistol.com) and Constitution Arms websites (www.constitutionarms.com). The latter includes a shop for T-shirts and hoodies with our logo. We also had a slight QC issue with one vendor who made the sear. Rather than scrap these, they were Sterling Silver plated and made into necklace pendants. These might make a nice holiday gift for that special someone : )
A Palm Pistol Facebook page has been created at www.facebook.com/palmpistol. A photo of some of the fabricated parts has been posted. Our plan is to provide future updates, perhaps more frequently as interesting news develops, via this method rather than sending out blast opt-in emails. Those who wish to continue receiving updates should visit the Facebook website and "like" us.
Have a happy holiday season.
Matt Carmel, President
Constitution Arms
[email protected]