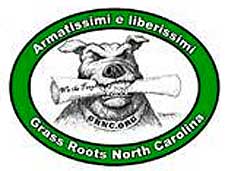 North Carolina –-(Ammoland.com)- Grass Roots North Carolinais starting off the year with both feet on the ground running hard.
Our first victory occurred in Wilson, NC, where the City Attorney, after reviewing Wilson Park Signage at our request, acknowledged their signs are NOT in compliance with State Law and committed to fixing them.
Last night, with the help of Grass Roots North Carolina members in attendance, the Village of Wesley Chapel permanently tabled their bad idea of creating a "Dangerous Weapons" Ordinance for Village facilities. After hearing from Speakers from the floor, as well as a plethora of emails generated from our GRNC Alert, the Village Council no longer had any desire to proceed. A two-two tie, broken in favor of continuing this matter last month quickly became a 4-0 unanimous vote last night without any discussion.
Yes, indeed, the Wesley Chapel Village Council did not want a round three with Grass Roots North Carolina!
This win in Wesley Chapel means that we're building momentum for Lobby Day at the State Capitol—starting 2015 with a bang
http://grnc.org/citizen-lobby-day
IMMEDIATE ACTION REQUIRED!
Sign Online Legislative Petition 2014
http://www.grnc.org/legislative-petition-2014
Petition calling upon members of the General Assembly to finish the work they began by requiring bureaucrats to obey laws enabling citizens to defend themselves.
About:Grass Roots North Carolina is an all-volunteer organization dedicated to preserving the freedoms guaranteed us by the Bill of Rights. Our main focus is the right to keep and bear arms. GRNC was central to drafting and passing North Carolina's concealed handgun law and since that time has continued to push for improvements to gun laws. Visit:www.grnc.org