See the new Reebok Dauntless Ultra-Light Series at SHOT Show 2015, booth #10179
St. Louis, MO -(Ammoland.com)- Warson Brands, manufacturers of quality military and tactical footwear and exclusive licensee for Reebok military and tactical boots, recently announced a new line of Reebok branded tactical footwear, the Dauntless Ultra-Light Series.
"These boots are a perfect fusion of Reebok athletic technology and Warson's tactical/military experience," said Jimmy Maritz, Warson Product Innovations. "Seamless technology gives you upper support, flexibility, and a glove-like fit. And an injected EVA midsole adds stability and comfort while removing weight. That's the athletic technology. All this is built on top of our long-wearing Dauntless All-Terrain rubber outsole with 360-degree traction on any surface. These are high performance boots designed for the extreme demands of law enforcement and military use."
The Dauntless Ultra-Light Series is available in an 8-inch tactical boot, 5-inch athletic hiker – both with side zips – and in an athletic oxford. Each style is all-black. They offer NATO laces, moisture wicking nylon mesh liner, removable injected EVA cushion insert, dual density rubber bottom, and lightweight injected EVA cushion midsole. They are 100% non-metallic. The athletic oxford has a TPU bruise plate, which provides additional stability and protection on rocky terrain. Also available in coyote and limited edition Kryptek-Typhon camouflage.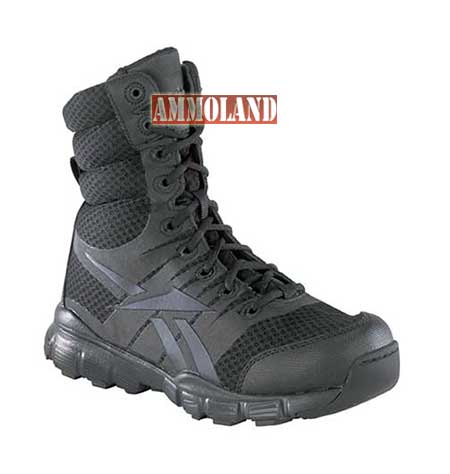 Bill Mills, President, Jim Maritz, CEO, and Warson Brands sales and production teams will be available at SHOT Show 2015, booth #10179 to answer any questions.
Reebok military and tactical footwear is available now through select duty uniform retailers throughout the United States. For more information, visit ReebokWork.com.
About Warson Brands
Warson Brands, also known as Warson Group, Inc., is headquartered in St. Louis, MO. Warson Brands is a global manufacturer and marketer of military, tactical, and industrial safety footwear since 1989, and provides a variety of work and duty footwear under the world's finest brand names, Reebok, Rockport Works, Florsheim, Iron Age, Grabbers, and Knapp. Warson Brands is best known for innovation in the areas of foot protection and comfort. Its innovative comfort technology provides superior cushioning and impact protection in long wearing protective footwear that is both light weight and flexible. Warson Brands innovations in the area of foot protection include developing 100% non-metallic protective toe caps made from composite material that is stronger and lighter than steel, and also will not conduct heat, cold, or electricity. Innovations also include protective arch, heel, and metatarsal guards; outsoles that resist chemicals, abrasion, slick surfaces, and extreme heat; and patented devices to protect workers and equipment from static discharge. For more information, visit www.warsonbrands.com.
About Reebok
Reebok International Ltd., headquartered in Canton, MA, USA, is a leading worldwide designer, marketer and distributor of fitness and lifestyle footwear, apparel and equipment. An American-inspired global brand, Reebok is a pioneer in the sporting goods industry with a rich and storied heritage in running, training and fitness. Reebok is committed to helping consumers fulfill their potential and be "fit for life." Reebok develops products, technologies and programming which enable consumers to live a healthy lifestyle and have fun doing it. Reebok connects with the fitness consumer wherever they are and however they choose to stay fit – whether it's training, running, walking, dance, yoga or aerobics. Reebok Classics leverages the brand's fitness heritage and represents the roots of the brand in the sports lifestyle market. A subsidiary of the adidas Group, Reebok operates under the multiple divisions of the Reebok brand, Reebok-CCM Hockey and the Sports Licensed Division. Reebok is the exclusive outfitter of CrossFit and the Reebok CrossFit Games, the official title sponsor of the Reebok Spartan Race, and exclusive apparel provider for Les Mills.