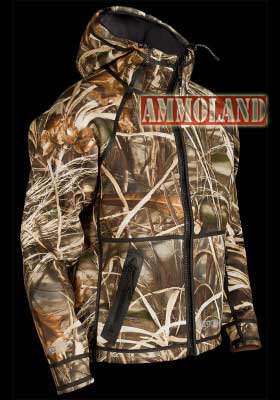 Millville, NJ -(Ammoland.com)- The ultimate in cold-weather comfort and safety, the Typhoon Jacket from STORMR, now comes in Realtree Max-4 wetlands camo.
Waterfowl hunters can now enjoy the standard-setter for winter wear. The timeless utility of the Typhoon Jacket, introduced in 2011, is quickly becoming the standard for the waterfowling world, just as the Typhoon become a staple worn by pro anglers and mariners.
The Typhoon remains the heartbeat of the STORMR line, providing unmatched features and maneuverability. STORMR's advanced technology and design allows hunters to shoot with freedom, unlike the cumbersome layers or thick, bulky jackets that made swinging on cupping ducks or geese even more of a challenge.
The Typhoon Jacket also has safety features, complete with 3M reflective graphics and nearly five pounds of protective buoyancy. The Typhoon's warmth, comfort and safety features give waterfowl hunters the ability to stay out longer and perform better when the ducks and geese are flying, which is usually when the weather is the worst.
Special features of the Typhoon Jacket include a fleece-lined interior, adjustable locking pulls, non-corrosive splash proof zipper, full-length interior storm flap, glued blind stitched and thermal taped seams, interior chest pocket, two fleeced lined splash proof exterior pockets with PU coated non corrosive zippers, and adjustable waistband with two interior cord locks.
Realtree Max-4 wetlands camo pattern is one of the most successful duck hunting camo patterns ever designed. It is the culmination of Bill Jordan's years of experience creating and marketing camo designs. The Max-4 camo design features cattails, millet, milo, cornstalks, sunflowers, oak and maple leaves, cedar and oak limbs, and a variety of other plant life. The pattern offers maximum effectiveness as waterfowl camo in any open terrain without geographical limitations. It is the largest camo artwork on the market.
STORMR products use Neoprene Core Technology that revolutionized outerwear design by affixing ultra-thin neoprene core with proven outdoor fabrics in a special lamination process. Until this process was perfected, no one could produce neoprene this thin and this warm. As a result of this breakthrough, STORMR products provide superior warmth, inherent flotation and incredible flexibility. Interior moisture-wicking fleece keeps you warm while the exterior windproof, waterproof shell beads water on impact.
For more information on STORMR Camo Typhoon Jacket, please visit http://stormrusa.com/series/typhoon/
About STORMR
STORMR products use Neoprene Core Technology to adapt the benefits generations of divers have used to fight the elements to land-based and amphibious activities. If you hunt, fish in freshwater or salt, or participate in any outdoor activity that requires superior mobility in harsh environments, no other gear will allow you to remain as flexible in tough conditions as STORMR's clothing. No matter how you test Mother Nature, STORMR's warmth, comfort and impervious construction will give you the edge you need to DEFY THE ELEMENTS.
For more information, please visit www.stormrusa.com.