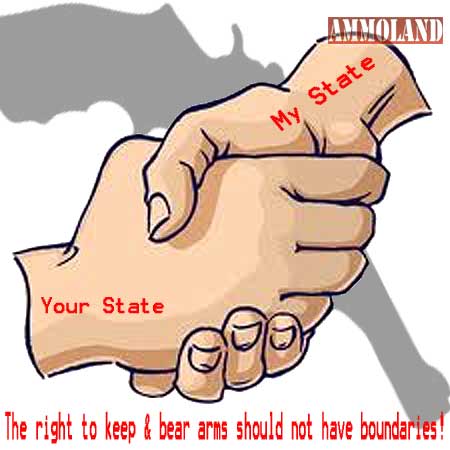 Washington, DC –-(Ammoland.com)- It's a problem as fresh as today's headlines.
A Pennsylvania woman with a concealed carry license drives over the New Jersey line with a gun in her car. In a routine traffic stop, she is arrested and charged for violating New Jersey's unconstitutional gun laws. Only a national campaign saves her from a decade in prison.
And that's just the point: In an era where states like New York, New Jersey and California use draconian and labyrinthine gun laws in order to try to outlaw guns by fiat, a legal gun owner shouldn't risk a life behind bars because he or she drives across a state line into a socialist-leaning state.
A Floridian shouldn't live in fear of a move that takes him through New York, or a Virginian, of a trip through Maryland.
So it is good news that, after a campaign that has lasted for over a decade, we are now within striking range of passing reciprocity legislation that is friendly to citizens living in constitutional carry states.
Congressman Marlin Stutzman (R-IN) has told Gun Owners of America that he will be introducing this reciprocity bill within the next few weeks. This bill will prohibit states like New York, New Jersey and California from cancelling the Second Amendment rights of Americans from other states.
If you have a concealed carry permit — or if you come from a freedom-loving state that doesn't require one — you can carry anywhere in the country without fear of losing your constitutional rights because of where you are.
With six constitutional carry states –– and at least four other states which may pass those laws this year — the Stutzman bill is a particularly important contrast to competing bills which would require states like Vermont to change their pro-gun laws in order to benefit.
Now, we know that some of our members would argue: "Why shouldn't principles of federalism allow states to spit on the Second Amendment if they want to?" We respect this view, but respectfully disagree. Gun grabbers have no problem creating national rules to take away our Second Amendment rights, irrespective of what we do. So it's time they were hoisted on their own petard.
In addition, the Supreme Court (correctly) ruled in McDonald v. Chicago (2010) that the reach of the Second Amendment extends beyond just the federal government and applies to all 50 states.
In this landmark decision, the Court noted (approvingly) that anti-gun Justice Stephen Breyer was "correct that incorporation of the Second Amendment right will to some extent limit the legislative freedom of the States, but this is always true when a Bill of Rights provision is incorporated." (p. 44)
Why are we so optimistic about Stutzman? The answer is that we now have a filibuster-proof majority to pass it in the Senate — if we can get the new GOP leadership to give us the opportunity to offer it as an amendment to a must-pass bill.
ACTION: Contact your Representative. Ask him or her to call Congressman Stutzman and sign up as an original cosponsor to the Stutzman "constitutional carry" friendly reciprocity bill.
About:Gun Owners of America (GOA) is a non-profit lobbying organization formed in 1975 to preserve and defend the Second Amendment rights of gun owners. GOA sees firearms ownership as a freedom issue. `The only no comprise gun lobby in Washington' – Ron Paul Visit: www.gunowners.org to Join.