By AWR Hawkins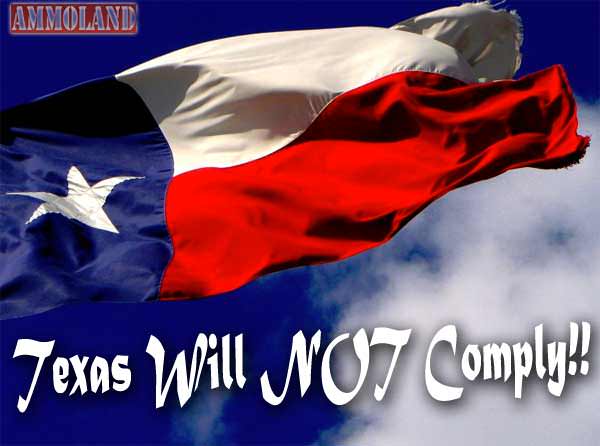 Washington DC – -(Ammoland.com)-  On December 1 2014, Texas state representative Matthew Krause (R-Ft. Worth) introduced legislation barring the in-state enforcement of nearly any federal gun control measure "past, present or future." 
The legislation, HB422, "requires the state to refuse to enforce" federal gun control measures which infringe on the exercise of the Second Amendment.
Subsection (b) of the bill specifies how the agencies and law enforcement officers of the state or any local government entity in Texas would be prohibited from being used for that purpose:
Any agency of this state or political subdivision of this state, and a law enforcement officer or other person employed by an agency of this state or a political subdivision of this state, may not contract with or in any other manner provide assistance to a federal agency or official with respect to the enforcement of a federal statute, order, rule, or regulation purporting to regulate a firearm, a firearm accessory, or firearm ammunition if the statute, order, rule, or regulation imposes a prohibition, restriction, or other regulation, such as a capacity or size limitation or a registration requirement, that does not exist under the laws of this state.
In an exclusive interview with Breitbart Texas, Krause said that HB422 was a refiled bill from last session, when it was filed in response to President Barack Obama's threat to enact strict gun control measures via executive order in a speech from the White House Rose Garden after the Newtown, Connecticut school shooting.
"Any time the federal government puts onerous restrictions on Texans' Second Amendment rights, we're not going to help them enforce it," said Krause. "We're not going to use any of Texas' time, talent, or treasure to enforce over-burdensome regulations."
Krause characterized the bill as a message to the federal government that Texas would stand up in opposition to any attempts to infringe its citizens' gun rights.
"Don't expect us to cooperate when you've overstepped your bounds," he said.
The 2013 bill had passed with bipartisan support and over 100 votes in the Texas House, but died in the Senate under threat of filibuster from the Democrats. An Austin American-Statesman article at that time identified State Senators Juan Hinojosa (D-McAllen), John Whitmire (D-Houston), Rodney Ellis (D-Houston), and Carlos Uresti (D-San Antonio) as among those who publicly opposed the bill, and the Houston Chronicle added State Senator Eddie Lucio (D-Brownsville) to the list.
Krause told Breitbart Texas that he had not yet spoken to Speaker Joe Straus (R-San Antonio) about HB422, but was "hopeful that the bill would have the same success" in the House as its predecessor from 2013.
Breitbart News previously reported that Texas state representative Tim Kleinschmidt (R-Dist. 17) introduced similar legislation during the week of November 10 2014. Kleinschmidt's bill barred enforcement of more specific (particular) aspects of federal gun control, whereas the bill put forth by Krause would bar "almost all federal gun control measures" from being enforced.
Follow AWR Hawkins on Twitter @AWRHawkins. 
About:
AWR Hawkins writes for all the BIG sites, for Pajamas Media, for RedCounty.com, for Townhall.com and now AmmoLand Shooting Sports News.
His southern drawl is frequently heard discussing his take on current events on radio shows like America's Morning News, the G. Gordon Liddy Show, the Ken Pittman Show, and the NRA's Cam & Company, among others. He was a Visiting Fellow at the Russell Kirk Center for Cultural Renewal (summer 2010), and he holds a PhD in military history from Texas Tech University.
If you have questions or comments, email him at [email protected] You can find him on facebook at www.facebook.com/awr.hawkins.